NYC Residents Make the Return to the New Normal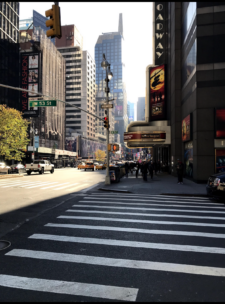 New Yorkers have been eager to regain control especially with the summer rolling around. As of May 25, 2021, 19,000,000 doses of the Covid-19 vaccine have been administered throughout New York City, with 8,820,000 people being fully vaccinated.
With Covid-19 positivity rates dropping significantly during these past few months, Mayor Bill de Blasio has become a beacon of hope for some New Yorkers as he is making strides to fully reopen New York this summer, hoping to do so before July 1st.
"This is going to be the summer of New York City," the Mayor said in a press release. "You're going to see amazing activities, cultural activities coming back. I think people are going to flock to New York City because they want to live again."
The lift of these restrictions means 100% capacity for restaurants, arenas, malls, and gyms.
New Yorkers are making big plans in hopes to reclaim an inkling of their normal lives back or adjust to what can be considered a new norm.
IHOP was the first restaurant experience Stephanie Jackson had when she decided to work her way back into normalcy. 
"IHOP always gave me a homey feeling but I was so nervous," said Jackson. "I didn't even want to take my mask off to eat my food." 
After looking around and realizing that she was quite spaced out from everyone, Jackson took off her mask, dipped her fork and knife in a glass of hot water, and began eating her bacon temptation and three buttery pancakes.
"It was a different experience, I don't see myself going out for a while but it was good to get out and get used to what to expect in the future," she said.
As a means to encourage people to go out and get vaccinated, de Blasio has promised to distribute free tickets and deals for concert venues, baseball games, the botanical garden, and the Bronx Zoo.
Krispy Kreme has offered a free glazed donut and Shake Shack has granted free fries to go along with your meal for anyone who shows their vaccination record card. 
A new objective has been to open temporary vaccination sites within eight of the most prominent subway/train stations in NYC, some being Penn Station, Grand Central Terminal, and the Long Island Railroad. At these locations, the Johnson & Johnson vaccination is being offered, and those vaccinated acquire either a free seven-day Metrocard or two one-way tickets. 
Covid-19 is not over and there is still a long way to go in steps towards recovery.
While people take the time to grieve their loved ones, others are taking the opportunity to travel to see those they haven't been able to see in over a year. 
After a three-day drive, a popped tire, and someone ramming the back of his car, Rikky John recalls the magical moment when he finally got to reunite with his family in Queens. 
"I haven't been able to see them since January of last year," said John. "After I got vaccinated I made it my mission to make the drive from Arkansas to Queens." 
Being able to enjoy the hugs, laughs, and shared stories with his relatives made the journey worth it. As he embarked on the lonely road back to Arkansas, after his month-long stay with his family, John promised to make the effort to visit more frequently. 
"You never know when the last time will be the last time," said John. 
Tatiana Brown had the same realization as she walked down the now unfamiliar movie theater isles in early May. 
"I really wanted to go see Demon Slayer, but I didn't know what to expect when I got to the theater since it's been so long," said Brown. "But the spellbound feeling you get when you first walk into the theater didn't change."
As Brown enjoyed her Jalapeño nachos and large blue raspberry slushie, she relished in how safe she felt in the theater. "Every precaution was taken to ensure our safety and everyone was so spaced out it was almost like I was in the theater alone," said Brown. 
Planning weddings, starting new businesses, and buying a new home have been milestones put on hold during the pandemic. Moments like these have been occurring frequently over the past few months as people are becoming more comfortable with the future of New York. 
Daniel Delgado (@DDelgadoVive) claims that "The push for vaccinated people to get "back to normal" isn't just about rushing to the end of the pandemic. It's also a sign of a culture profoundly unaccepting of grief, trauma, and the process needed for healing." Twitter. 6, May 2021. 
It is important to acknowledge that the Covid-19 pandemic was and still is traumatic.