Last summer, Austin Butler's portrayal of Elvis in the 2022 biopic Elvis dominated the big screen. But, this fall, our eyes are drawn to the woman who kept him going, Priscilla Presley. 
The film explores how Priscilla's life was changed forever when she was approached by a United States Air Force officer at a diner inviting her to one of her future husband's parties.
After incessantly asking her parents for permission to go to Elvis's (Jacob Elordi) party in Germany, the following scene cuts to Priscilla (Cailee Spaeny) conversing with the king at said party. He immediately assumes that she is a high-school junior (which somehow was justifiable in his mind), and is shocked when Priscilla reveals she is a freshman. 
Admittedly, this scene made audience members gasp. After mentally noting her age, Elvis coerces Priscilla to his bedroom, "I feel so alone," he says to Priscilla, the two kiss and the rest is history.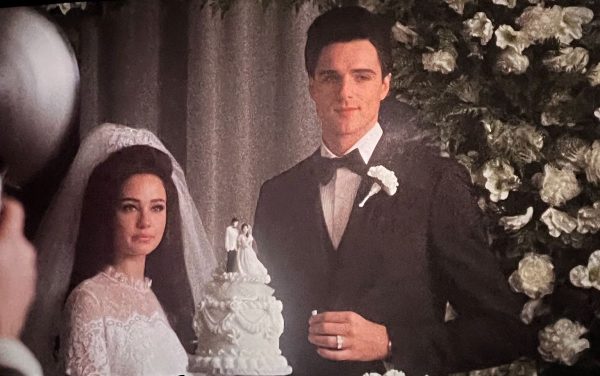 It's almost alarming how well twenty-five-year-old Cailee Spaeny, who plays Priscilla, can transform from fourteen to twenty-eight in an hour and fifty-one minutes. Spaeny's portrayal of one of the most iconic women in popular culture made those in the audience emotional as she portrayed the immense heartbreak Priscilla endured when Elvis left Germany, and did not contact her until two years later.
While Elvis (2022) glorifies the king of rock and roll, Priscilla (2023) reveals the dark truth of the complicated marriage. The film shows the barely-legal teenager leaving home to move to Graceland, jet-setting across the country, and taking illicit narcotics at the disposal of her boyfriend.
Drug use is shown in almost every scene of the film. The first is on the couple's first date when Elvis hands Priscilla a pill to concentrate in school. The second scene, another disturbing one, shows Priscilla taking another pill and being unconscious for two days. 
When invited to Graceland after the two-year gap of no contact, Priscilla eagerly waits for Elvis to return from filming. The first glance they take after that time apart makes it apparent one another's presence bewitched the two, Elordi and Spaeny's chemistry on the big screen was electrifying. 
Apart from the fiery romance, Priscilla lost her identity when she met Elvis. She is shown as a dedicated student, but when exposed to Elvis's lifestyle she resents this part of her life. She is practically forced to go to school by Elvis when he enrolls her in an all-girls Catholic high school as a part of their living arrangement. 
Most of her time at Graceland is spent alone, apart from the company of her poodle that Elvis gifted to her. When playing with the poodle on the grass outside of the mansion, she is scolded by one of Elvis's employees to go inside. This scene showed the last part of Priscilla's innocence which was ultimately destroyed by her obligation to maintain a certain image in the eyes of the press. 
This image does not come cheap. Elvis takes Priscilla shopping at a boutique, treating her like a doll. She seeks approval with every dress tries on. Her confidence soars when Elvis compliments her, and is destroyed with any criticism. He forces her to dye her hair black and put on more eye makeup, stripping her identity again This scene especially shows how much the age gap allowed Elvis to mend Priscillia into his twisted version of the ideal woman.
It's clear, no matter what outfit Priscilla was wearing, or how perfect her makeup was, she would never be able to stop Elvis's infidelity, drug use, or halt his temper. The most chilling part of the movie is when Elvis aims to throw a chair at Priscilla's head, but thankfully misses and hits a wall instead when she shares her honest opinion about a song.
The second portrayal of Elvis's vehement temper is when his then-wife Priscilla confronts him about a note from another woman found in his jacket pocket. He immediately starts questioning her sanity, when he rips every garment of hers out of a closet while screaming at her to get out of his house. Ironic. 
After years of infidelity, violence, and plain chaos Priscilla gathers the strength to leave the man who stole her innocence. After watching Elvis (2022) and Priscilla (2023) I noticed in both films a line is taken from the book the film is based on, Elvis and Me (1985) that Priscillia says when leaving her ex-husband once and for all, "If I stay I'll never leave."
That powerful line speaks to the internal growth Priscilla developed during her marriage. She was once a girl who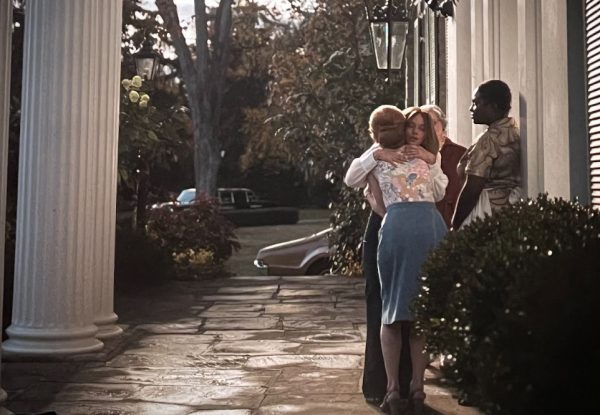 wrote letters to a man who left her without notice for two years during the initial stage of their relationship, to a woman who left the very man who stripped her of her identity crying in bed for her to return.
Director Sofia Coppola is renowned for her directing style of internal emotional expression. Spaeny doesn't have many lines in the film, if she speaks it's usually short. Initially, I was disappointed and wanted to see Priscilla vocalize her thoughts more than she did in Elvis (2022), but after considering Coppola's directing style, I appreciate that she stayed true to Priscilla's reserved personality as she wrote about in Elvis and Me (1985).
The film's ending was seemingly abrupt, but after resonating with it I think the director of the film, Sofia Coppola, couldn't have picked a better way to show this part of Priscllia's life. After hugging the women who cared for her at Graceland, Priscilla drives off to the soft medley of Dolly Parton's I Will Always Love You. 
Priscilla will always love every part of Elvis. The film took this iconic relationship to an authentic place. Despite the glamour, trips, and parties Priscilla (2023) showed the strength a woman can channel no matter the hardship. Reinforcing that, as Charlie Rich said, no one truly "knows what goes on behind closed doors."
My rating: 10/10