Majella Mark: Starting Uncomfortable Conversations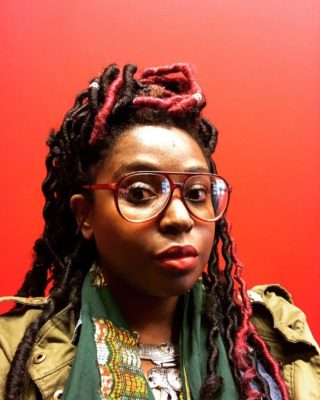 With her extensive knowledge of art and woman's rights, Majella Mark set out to make a change within Brooklyn, New York. 
Majella Mark, in the company of her two cats, Gin-Whisky and Bourbon, found a way to persevere despite the hard times. 
"For me, the pandemic forced me to sit with myself, reflect on my internal stuff and get comfortable with the silence," said Mark.
Growing up, Mark watched as her parents worked hard to become respected artists. When they migrated to Connecticut from the Caribbean Island of Grenada, they learned to adapt to the new fast-paced lifestyle that came along with it. 
As a native Connecticut resident, born to immigrant parents, Majella Mark learned to use her creativity and diligence to make the changes she deemed necessary with her community and through the digital sphere.   
With her upcoming Ph.D. Candidacy in Human Rights and Governance to go along with her BA in Media and Society Studies and MBA in International Business, Majella works hard to use her degrees to uplift the black community. Knowing this she decided to work with two publications, CultureBanx and Womanly Magazine. 
As a feature writer for CultureBanx, Mark concentrates on the progression of people of color. Some of her most recent work being, Is COVID-19 The Big Equalizer For Economic Prosperity and Why Black Frontiers Should Start Building Environmental Enterprises. 
At CultureBanx, Mark captures "ways people of color can financially progress in various industries that are not creating wealth for minorities but may exploit the individuals through consumerism or their culture."  
At Womanly Magazine, they focus on health justice for women and non-binary. There, Mark works as a researcher and in analytics. Every day she's grateful to get the opportunity to listen to those who express concern for important issues such as nutrition, reproductive justice, and mental health.  
"I appreciate what investigating the truth brings to the world," said Mark. "That's what makes researching so engaging. You have a process of getting from the problem to the solution and get to understand everything in between."
Besides her work within the literary sphere, Mark sought out to help women in other ways.  Currently, in the US, Black women die at an alarming rate during childbirth. With her understanding of health justice, Mark became a certified doula.  
Black women often see a lack of representation and as a certified doula, Mark does her part in reproductive justice for women of color who feel voiceless. 
Throughout the pandemic, her work as a doula has taken a setback due to hospital restrictions as well as limitations on home births. Mark was still able to stay connected to her clients since she wasn't allowed in the delivery room. 
"If a birther chooses they can have a home birth with all parties tested beforehand, but patients feel more overwhelmed than ever since they don't have their informed advocates with them physically at the hospital," said Mark.   
Recently Mark set out into other ventures. "My sister got sick," said Mark in an email. "She had a mini-stroke last year, she knew she could use her experience to help others."  
"Met God, She's Black" is a podcast Majella and her sister Sherrie started to share the "raw and honest stories of the marginalized groups." Through this platform, they were able to create a safe space for women by celebrating, encouraging, and valuing their voices. 
"We are also grateful for those who shared their stories about suicide, rape, abortion, IVF, being a refugee, coming out to parents, etc," says Mark. 
"Cats are Trash Human Beings" is a book that Mark wrote during the pandemic. Inspired by her mother and other feminists and activists such as Loretta Ross and Dr. Joy DeGruy, Mark realized that everyone has stories to tell. 
"I was stuck in my apartment with my cats during quarantine and began really observing their behavior," said Mark. 
"I began to record my observations and came to this funny conclusion that cats are trash, to each other, to their owners, to strangers when they're in the mood. They are just unapologetically moody and don't care. That just seems really freeing."   
Through the analogy of her cat's behavior, Mark was able to put a feministic outlook on gender equality and woman's rights. "Creating art is my way of processing the information I learned," Mark said. 
In light of the Black Lives Matter protests, there had been an increasing spotlight on black literature by those who fought to understand the black experience.
"I did get a lot of support and opportunities from my peers, simply because they needed to understand my perspective," said Mark. "I provided an insight that seemed unreachable to them before." 
Mark took the opportunity to educate as well as celebrate the miracle of African American existence despite major setbacks. 
The goal for Mark has always been to make uncomfortable conversations, comfortable. Once the pandemic is over, Majella is excited to see what else the world has to offer. 
"I am looking forward to traveling, relaunching the art workshops I run like the Pvssy Plate Painting Party and the Black Women's Day of Meditation, and just sitting outside without a mask," says Mark.