What's Next- Joe Biden's election leads to an uncertain future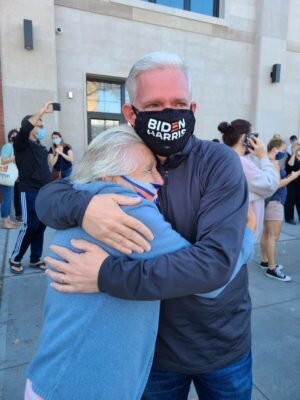 Joe Biden became the projected winner of the presidency on November 7th, winning Pennsylvania according to most media outlets. Many Democrats celebrate the loss of Trump more than the victory of Biden.
Democrats were able to breathe a sigh of relief for the first time in four years. Democrats of all affiliations spewed out emotions and began to rejoice in the victory. The goal seemed all along to remove Trump more than having the right man to replace him. Now that Biden proceeds to be his successor, the dial shifts to Biden and what he can undo from the past administration.
Ross Barkan, author, journalist, and former political candidate echoed the significance of Trump in the election. Along with detailing the challenge for Biden to get the nation to coalesce. Barkan said via an email message, "Unlike Barack Obama, Joe Biden did not command an enthusiastic personal following. He wasn't breaking any barriers and he was very familiar to the public." 
Barkan also said, "Obama's pitch in 2008 was 'hope and change' while Biden offered to 'restore the soul of the nation,' a return to relative normalcy following the Trump years if such a thing is possible. That pitch resonated with a lot of Democrats who despised Donald Trump. It was well-tailored to the moment. Turnout was remarkable but should be understood as a phenomenon driven entirely by Trump, who is the most polarizing politician in modern political history." 
While many Republicans came out to vote for Trump, some voted against him, and not because they felt strongly about Biden. Feuding with the late Senator and former Republican presidential candidate, John McCain impacted his attempt at re-election. McCain held a seat in the state of Arizona, which Trump won in 2016 but voted blue in this election. 
Likewise, Senator Mitt Romney put aside his partisan and was the sole Republican to vote to remove Trump from office after the House voted to impeach him in December of 2019.
Conversely, Biden needs to turn the envelope away from Trump and toward his administration. His presidency must expand further from solely removing Trump from office. 
Already, the cabinet selections from Biden have exemplified his stance on standing moderate and refuting an opportunity to open arms to progressives. 
The nomination of Neera Tanden was especially discouraging for progressive Democrats, given her heavy critique of Bernie Sanders. While many of his selections were unsurprising, Barkan deemed this nomination, "deeply alienating to much of the left." 
The President-Elect is expecting that bringing back relative normalcy will satisfy Democrats.
Assuredly, Biden has an uphill battle in uniting the nation, but his focus must begin on his party and the people who elected him. Voters like Daisy Nunez, a college student and community liaison in her Bronx neighborhood, did not initially support Biden but is the reason his election was possible. She identifies as a progressive; voters Biden will seemingly have to reach out to in an attempt to continue the optimism within Democrats.
Daisy ensures Biden defeating Trump is not enough. "I am glad Trump is gone, but I have moved past it. We moved in a positive direction, but potentially not the right direction. Biden needs to make me feel excited about his administration. He needs to offer something to progressive voters." 
Biden is moderate, but to avoid making himself contentious amongst his party, he needs to satisfy voters like Nunez.
Biden has far more work to do to shift the celebration toward him as his inauguration nears. The election was competitive despite many voting strictly against Trump. 
He needs to provide optimism to his base voters just as keenly as he would to voters like Nunez. Jim Clyburn reminded moderate voters about Biden when he said we know Joe. Angie Avitable, a Lovett Co. office worker, was one of those voters.
She feels confident in health care bringing the party together. "Biden has to reach everyone willing and able. Especially with the pandemic and the emphasis on Trump trying to remove Obamacare, achieving his sought out public option can unite the party significantly. I am 75 percent in on Biden, he needs to get voters like myself, and Democrats as a whole, as close to 100 as possible."
While Biden recorded a victory, the election showed Latino Americans are not guaranteed votes for Democrats. Western Illinois students Anthony Gomez and Yazmin Laserna pointed toward action as the way to bring Latino voters back. 
Gomez said, "He needs to implement things that are actually going to help us because he was barely anyone's first choice." 
Fellow student Laserna had this to say on Biden, "He is not much better, but he is the better choice. He needs to go out of his way to help our communities."
The challenge for Biden is any attempt at maintaining Obamacare, let alone expanding it, is contingent on measures out of his reach even when he assumes office. He would face a similar challenge in reaching out to minorities with public policy.