Aladdin Campus Dining, a new food service vendor, is set to launch in the Spring of 2024 in John Jay's cafeteria, promising new options for students and faculty on campus.
The health of students, as well as the prices that this new vendor presents is a big change to the John Jay community. This new shift promises a fresh array of dining options for students, faculty, and staff. 
The request created four finalists and recommended Aladdin Campus Dining for a joint services agreement. Aladdin's mission is to "provide the best possible college dining experience for every student so that their college life experience thrives." 
Mark Flower, Vice President and Chief Operating Officer, and Brian A. Peterson, Senior Vice President for Finance and Administration, proposed in an outreach email that this campus partnership will enhance the quality, and variety of food at John Jay. One of the highlights of this include Aladdin offering options for people with dietary restrictions. 
Ayesha Tahir, a sophomore at John Jay expresses her thoughts about this new shift. 
"I'm hoping the dishes are actually good, like there was proper planning behind it with different ingredients used," said Tahir. "I'm tired of constantly going to Halal food carts."
Tahir also hopes for something more diverse that will accomodate her religious needs. 
Lissette Morales Benitez is a Junior at John Jay who usually goes to the dining hall to see their menu options.
"For the pepperoni pizza, it's about $4.15, and if I get two, it's double the price," said Benitez. "Meanwhile in the Bronx, I can get two slices for $2.00 and a can of soda for $1.00."
Even though this price is considered high, Lissette insists it's the best pizza she's had at John Jay. 
Kyle Evelyn, a senior at John Jay,  agrees that the food is overpriced. 
"I remember four slices of pizza cost like $25," said Evelyn. "This is why he doesn't go as often.
Meanwhile, other students such as Sophmore, Daniel Isaacs maintain a positive opinion on the old campus dining, MBJ Food Services. 
"I don't necessarily eat their food very often but I get it as much as I can with my schedule on campus," said Isaacs. "It's always packed with great staff, and the quality is never distasteful." 
She believes the prices are the same as other vendors in the area, and offer a more balanced diet.
Benitez has a few improvements she would like the vendor to provide. 
"I expect to have more variety of food options and knowledge on their grease," said Benitez. "I want them to also take responsibility for foods that many students cannot have because of allergies, or being vegan." 
The Wellness Center at John Jay provides an Emergency Food Voucher Program. By filling out an assessment form, they can determine if a student is experiencing food insecurity. These vouchers can apply to food only on the grill in the dining hall. 
Serenity Hall, a new student to John Jay claims she's been experiencing some trouble with the voucher program. 
"I switch between packing my lunch and buying. I already think the way they do things is silly," said Hall. "I can't use the vouchers on half the food they serve in the dining hall."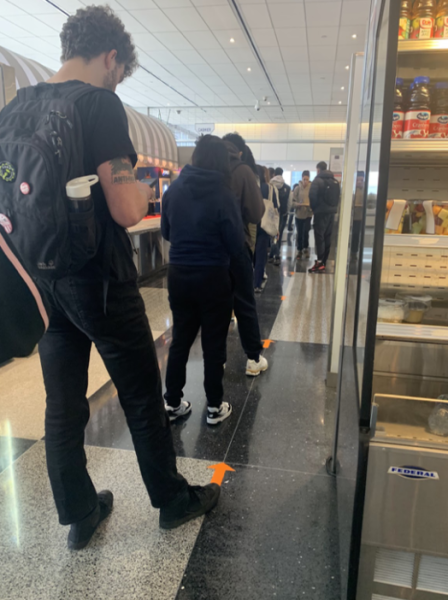 These food vouchers do not include packaged food such as sushi, sandwiches, drinks or snacks. Serenity hopes there can be improvement when it comes to these vouchers, especially in the dining hall. She also says the line can be overly excessive.
While numerous students have voiced their opinions on the campus dining hall, faculty members also hold their perspectives on the matter.
Professor Perez, an advisor in the Interdisciplinary Department, shared that professors aren't excited to buy from the school cafeteria.
"I don't know a single staff or faculty member that was ever excited about eating at the college's cafeteria," said Perez. "The biggest issue for me is that the most affordable meal options are never the best balanced from a nutritional point of view."
He added that when browsing the food options he realized that a sandwich is over six dollars with tax, and it is mostly bread, which he doesn't believe is the best choice to spend your money.
Professor Perez asserts nutritious and accessible food should be a priority anywhere. 
"It is a huge justice issue," said Perez. "The college should be in support of that, so I really hope that the new provider can make this possible."