Shooting Star Justin Colón
John Jay senior Justin Colón has gone viral several times on TikTok while talking about science, completing what was once thought as impossible. 
Colón took his passion for science and began posting creative videos to educate viewers on various science topics, amassing a following of over 75,000 users and 834,000 likes on his page.
He shares information about himself while sitting tall and confident in the comfort of his home office, wearing a gingham patterned shirt.
Colón began studying Forensic Science with a Criminalistics focus at John Jay College in the Fall of 2019, the only school to which he applied. He knew he wanted to pursue Forensic Science after conducting extensive research, and believed John Jay was the school for him because of its convenience, affordability, and quality education. 
When asked about how all the attention he's gained on TikTok makes him feel, he ponders for a few seconds, "When a post does go viral, it's usually the ones you don't really expect or don't really want to go viral," Colón said. "There are a lot of things that I cared about a whole lot more, that I put so much more effort into that barely scraped any views. Which is okay, because I made it because I loved it." 
Friends and family persuaded Colón to become a TikTok creator, but he never expected to gain the following that he has. They are extremely proud of his efforts and the online popularity he has achieved.
"He is attempting, and exceeding, at communicating to a super wide audience; he really feels that science is not just for his specific age or his specific gender," said David Yaverbaum, Colón's previous Physics professor and current PRISM, Program For Research Initiatives In Science & Math, advisor.  "It is important and as a real and as hard to pull off any laboratory or research, and it is so exciting and so legit, and the more he makes science look manageable to people who do not think of themselves as scientist, he is making it look easy but it is really hard what he is doing."
Colón's friends are also proud of his accomplishments.
"He's so informative, and also really funny," said Alyssa Reynolds, Colóns' classmate and friend. "I just have been rooting for him while he's doing this and it is such an exciting experience. I feel like he is the person to be able to do that. He has a presence, he carries himself really well, and can put himself out there." 
Scrolling through Colón's feed, there are all types of science content available for viewers to learn, ranging from fossils, space news, and different elements on the periodic table. He spends hours online, observing his followers' interests, and continuing to release popular content that will keep fans coming back.
Sometimes he will post a quick video just to inform his followers and other viewers about current events occuring in the science world, taking just five minutes to record content and uploading it without a thought. The next thing he knows, a video will blow up with thousands of likes and hundreds of comments asking for more information.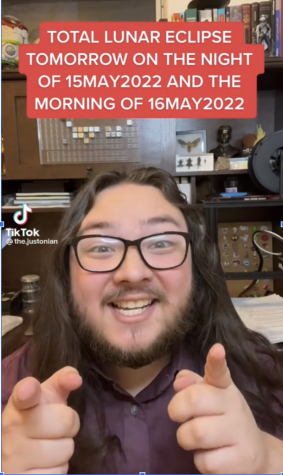 Colón noticed his most popular content are timed events like an upcoming meteor shower or a total lunar eclipse. However, the TikTok algorithm makes it difficult to constantly break through viewers' feeds.
"There is a pressure to keep producing the content that does well, even if it starts draining on you," he shares. 
He took a break over the summer and is now struggling to start posting consistently, frustrated that some of his videos are not passing a thousand views despite the time and effort he put into them.
Posting is often a game of chance, with no way of knowing which posts will go viral and which will not.
Colón's Dreams Brought to Life
Colón beams as he shares an incredible opportunity that would have been impossible without the help of his social media.
A few days before the semester began, Colón received an invitation to fly down to the Kennedy Space Center and attend different NASA events before the launch of Artemis 1. The goal of the mission is for astronauts to go back to the moon and set up a permanent base. 
He explored historical buildings that are inaccessible to the public and met with astronauts and engineers. Unfortunately, NASA canceled the flight due to concerns that an engine had cracked and was potentially leaking hydrogen.
According to an article in the New York Times, there was a liquid hydrogen line that did not adequately chill one of the rocket's four core-stage engines before ignition.
If the rocket was unable to cool down, the temperature shock of these super cold propellants could crack the metal engine parts.
While he was disappointed in missing the launch, Colón was grateful for the opportunity.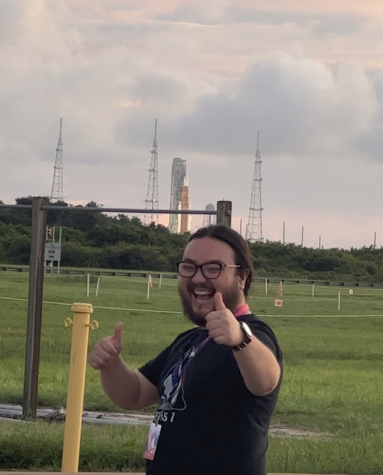 He created a lot of content about the Artemis 1 launch, giving his followers an insider look and garnering a lot of views.
Colón has experienced the highs and lows of being a content creator but does not let negative experiences get to him. He remains positive and continues sharing his passion for science with the rest of the world. 
TikTok is a platform where anyone can become a star. There are always people who will be interested in enjoying all sorts of niche topics. 
Colón decided to reach for the stars and it took him far beyond he ever imagined. 
"There was always this goal to produce this science content, I didn't expect to have anything actually come of it," Colón said. "But I just thought I am really passionate, and if I can just give that somebody else, just one person, and they learn something fun, and go tell their friends this new stupid fact, thats's enough for me." 
Anyone interested in learning something new should follow Justin Colón on TikTok.