Aspiring Plus Size Model's Journey to Self Love
Faith Malave is using social media to improve mindsets and inspire girls who deal with pressures from society.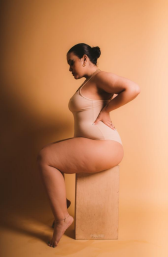 Malave has dealt with many trials and tribulations concerning her body image growing up. 
"I've even had my father call me fat and tell me that I was getting big," said Faith Malave, a 20-year-old student, and Bronx, New York, resident. 
"In elementary school and middle school I was definitely really skinny, but I swore I was fat. I learned that I had body dysmorphia," she explains. According to the International OCD Foundation, body dysmorphic disorder affects 1.7%-2.9% of the population. Her mother would monitor her eating, make her feel bad for eating certain foods, and constantly throw the issue of "gaining weight" in her face.  
She went through many obstacles regarding her weight throughout her life. "It was hard for me to have a positive relationship with my body when I was going through these obstacles like being bullied, having my family make me self-conscious, comparing myself with other girls," said Malave."It was never easy." Through it all, she worked her hardest to stay positive and optimistic. 
Things took a turn during the COVID-19 pandemic when Malave gained 25 pounds shortly after its genesis. She had reached her breaking point.  "I knew I loved myself, but it was hard for me to even look in the mirror," she said. " I was telling the media to love themselves and that I loved myself, but it was a complete lie." 
In response, Malave began to work out causing her to lose 15-20 pounds in 5-6 months. Her weight loss allowed her to develop a sense of appreciation for her body. Malave began to feel happier when she realized what her hard effort had accomplished. She found happiness by keeping herself occupied at the gym and being committed to herself.
In the midst of her struggles, Malave found a feeling of safety through other plus-size influencers. Her favorite model, Ashley Graham, the former cover of Sports Illustrated in 2016, appeared on her Instagram. 
"She was the most beautiful thing, and was the first actual plus-size model that I've seen in the media," she explains. "In a world where we're surrounded by all of these skinny bodies and tall bodies, seeing Ashley Graham was like a breath of fresh air." 
Today, Faith has over 7.5k followers on Instagram and uses her platform to preach self-love. "The way that Ashley Graham made me feel, I wanted to give that same feeling to other curvy women in the world who may not feel like they're capable of being a model because of their size." 
She routinely shares images from professional photo shoots, as well as her personal ones with friends or on her own. Despite her perseverance, Malave still expects obstacles.
"Every day it's something new, like getting backhanded compliments like 'I love your confidence,'" she said. Should I not be confident in this body because I'm not the beauty standard?" 
Even though she has developed a great deal of self-confidence, she occasionally has difficult days when the criticism feels excessive or when the words are hurtful. However, she believes benefits will be reaped from her struggle."Going out there and being confident in myself, being able to model in a bikini or lingerie and posting it online and helping others feel good; that is the biggest reward of being a plus sized model," she says. She finds encouraging and influencing others to be the biggest reward.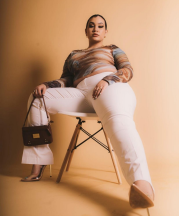 Every day, she gets messages from young women thanking her for being an inspiration to them and expressing their admiration; this makes everything worthwhile for her. Many others are inspired by her fitness journey.
Some may think that she is contradicting her message of self-love by trying to lose weight.
"No matter how you look, I just want to push that people should love themselves for their natural self, no matter what stage your body is in," she said. "I love myself enough to try to get healthier and push myself." 
Malave is pleased to have collaborated with the Greek brand Body Love and Dolls Kill, an online retailer. She wants to work with more renowned brands as part of her numerous professional objectives in modeling.
In her journey to become a model, she is taking the steps that she can. 
"There is definitely a lot to look forward to, be hopeful of, and be proud of," said Malave. "I'm not where I want to be, but I'm not where I was before, and that's something to be proud of."