Turning Point USA Loses John Jay Chapter
The John Jay chapter of Turning Point USA, a non-profit whose self-identified mission is to organize students to promote freedom, is disaffiliating from the parent organization because of its dogmatic practices, the club president says.
Andrew Berezhansky, the club's president, started John Jay's Turning Point chapter in October of last year as a place where students could debate the politics and the news of the day, and where minority opinions could be talked about openly. A list of recent political events, with possible input from the room, is placed on the board, and a vote is held on which subjects the club wishes to discuss.
According to Berezhansky, the club has 300 students on its email roster and 20 or so are regulars at meetings. However, the club will be changing its affiliation from Turning Point to Young Americans for Liberty. This will deprive the organization of direct access to John Jay's 15,000 students and hand members over to Young Americans for Liberty.
According to the website, Turning Point's mission is to "identify, educate, train, and organize students to promote the principles of freedom, free markets, and limited government." The organization supports President Trump and keeps an endorsement from his son, Donald Trump Jr. They also boast that Turning Point is the largest growing youth organization in the country, with connections to over 1,500 campuses.
Promoting freedom, particularly freedom of speech, is exactly what Turning Point's Vice-President, John Lopez, and the other members of the executive board want to do.
 "We were starting a club for students who are silenced in class," Lopez said. "We don't really associate with their values, in a sense, we have our own values."
The national organization of Turning Point USA also operates Professor Watchlist, a website that keeps a list of professors that the organization believes discriminates against conservative students and advocates leftist propaganda in their classrooms. No John Jay professors are on this list, but a couple of CUNY professors are.
As controversy began to grow around Turning Point, Berezhansky became concerned.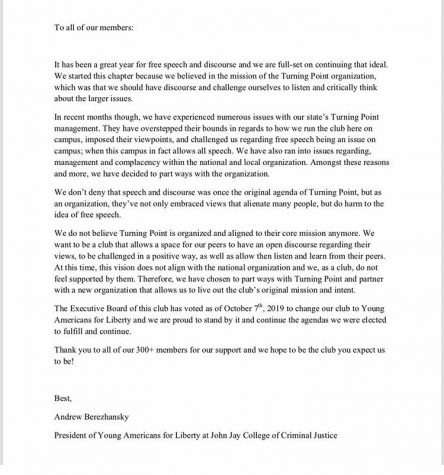 "Turning Point has been taking a lot of hard-right stances lately, and there are a lot of people that have been fired or have left because of racist comments that they have made," he said. "We don't defend that kind of stuff."
Perhaps more influential in the decision was the club's relationship with the organization. The chapter tried to maintain political independence from the national organization, with some difficulty. The executive team felt that Turning Point chapters had to provide something to get their support.
More direct tensions with the organization's field representative also played a role. Each chapter is meant to have a field representative who supports the club and coordinates events with them. The representative allegedly never bothered to reach out to the chapter.
The speakers that Turning Point's field representative arranged for the chapter also didn't sit well with the executives.
"He was pushing people like Joy Villa on us or like Tomi Lahren who are generally provocateurs," said Berezhansky. "They're just very provocative and they don't hold any real consistent beliefs, to put it bluntly."
When the chapter found itself unable to host some organizational events, that tension intensified. Berezhansky alleges that the representative began to purposely ignore them. The representative would arrange phone meetings and not answer.
With these constant tensions and concerns over their image, the club decided to disaffiliate, choosing to instead affiliate with Young Americans for Liberty. Young Americans for Liberty is a libertarian organization. Their mission statement is virtually the same as Turning Point's, except their organizing purpose is to "make liberty win," according to their website.
For members of the club, little will change in terms of meetings. They will still freely discuss the news of the day, according to David Jimenez, the club's treasurer.
"We're just changing names, we aren't changing who we are," he said.
The reception to this change from members was described by the executive team as mostly ambivalent, but Jeremy Wong, a senior and attendee, expressed his support.
"I'm okay with the club changing," he said. "I'm completely for it."
According to Berezhansky, the shift is functionally complete, with little more to change than aesthetics. He and the other executive board members expect good things to come from this move.