The Beauty Specialist from Montenegro: Small Town Girl Takes on the Beauty Industry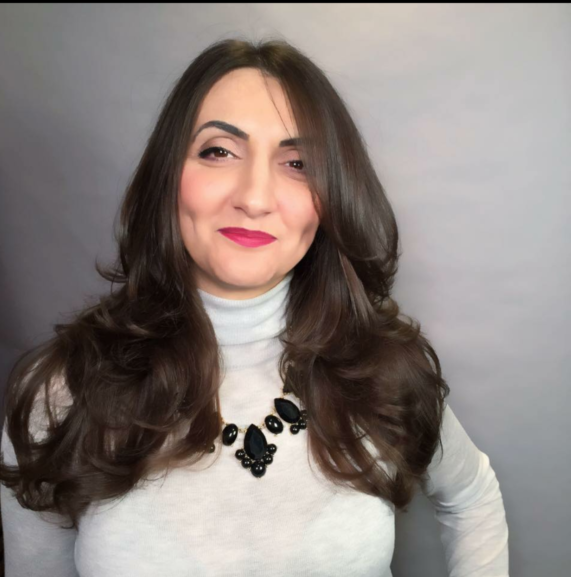 In this day and age, being a beauty expert is more common than ever. But, coming from a small country and succeeding in the beauty industry is a big achievement for Saida Sukalic, who was born in a small village in Vladimir, Montenegro. Now, she is a well-accomplished beautician.
Saida analyzed her makeup in the mirror of Lilibeth Beautiful Brows & Eyes, preparing for her shift. "Vladimir is a small village in Montenegro, where many people didn't get the chance to come to America and live the American Dream," she said.
After working at Lilibeth for over 10 years, she has rightfully earned the title of "Brow Queen."  Her life, however, was not always this glamorous because she grew up in a small village inside of a small country.
After losing her dad at the age of 9, Saida's life changed in more ways then she imagined. She lived with her mother and two older brothers who were always working.
 "Even though I wasn't 'working' like them, I was still working very hard. I always came straight home to cook dinner and have it ready before they would come home. Then I had to clean, help my mom sew, and do my homework."
Her struggles at home continued into Saida's young adult life. After high school, she was never given the opportunity to go to college. Her older brothers got married and her mom became tougher in an effort to get her into the sewing business.
"My mom was tough. She had a hard life and didn't let anything get past her. I had to help her always with sewing dresses, it's how we made a living. She was always mean to me because I was her only daughter, and she only wanted to have sons," she explained.
But even at a young age, she was always fascinated by hair and makeup.
Her bright fuschia colored lips contrasted with her gray dress and silver heels. "My mom never let me wear makeup. Not even light makeup and I never got to do anything with my hair. I remember when my brother's life brought me a light pink lipstick and my mom made me give it back."
It never occurred to Saida that she would come to America and become the Assistant Manager in a salon full of beauty experts. Located in the Upper West Side, Lilibeth Beautiful Brows & Eyes is a brow boutique and salon, offering unique brow shaping experiences, makeup applications, lash extensions, facials, and more. By being a beauty expert, Saida plays a vital role in the salon. She transforms women's faces with her affinity for brow shaping and skilled makeup techniques.
Owner of Lilibeth Beautiful Beautiful Brows & Eyes, Peter Pappas said, "Saida is one of the best things that has happened to our salon. She has an eye for beauty. It is not easy to find a talented woman who is hardworking and humble at the same time as Saida is."
Her humbleness comes from her background. She came from nothing but became successful. At the age of 19, Saida met her husband. At that age, back in the day and in Montenegro, you should have already been married. But Saida wasn't. While all of her friends got married and moved out of the village, Saida was still at home helping her mom make a living. Her older brothers got married, but they still lived in the same home, so she was always busy.
"One day my brother was in the city, and he met a guy named Safet, from America. They started talking and my brother mentioned that he had a single sister. The next day I met him. I didn't like him, so when he asked for my number I gave him a fake one," Saida said.
Everyone but Saida thought she was ready for marriage. Even though she gave him the wrong number, Safet was still able to contact her through her brother. Just after meeting three times, he wanted to marry her.
"My brothers and mom forced me to get to know him. They all liked him even though I did not. When he asked me if I would marry him and move to America, I wanted to say no," Saida said. She took a deep breath. "But I had no choice."
She came to America in 1996, got married and pregnant immediately. Saida, her son Rifat, her husband, and his parents all lived in a small apartment in the Bronx. In the apartment below her lived Safet's first cousin and his wife, Meri Desevic, who is now the President of Lilbeth Beautiful Brows and Eyes.
"When Saida and I were living in the Bronx, I was working at a department store in the city. Saida was not working because her husband wanted her to stay at home and raise their son while also cooking, cleaning, and taking care of his parents," Meri Desevic said while looking at Saida who is patiently waiting for her first client to show up.
Meri Desevic is also from Montenegro, but she was born in America. Because she was born in New York, she considers herself more modern than Saida. She started working at a young age and met her Montenegrin husband in New York, so she did not have as many limitations as Saida did.
"I then started doing makeup at home for brides and bridesmaids. I would call Saida to come downstairs to help me with the little stuff, but she quickly picked up on the jist of things and together we were doing a lot of makeup applications at home. But, her husband didn't approve of this either," Meri said.
By the time her son was turning two years old, Saida wanted to get a job. But her husband, who wanted her to live a typical housewife life, wanted her to get pregnant with their second son, and so Edi Sukalic was born.
After Edi turned one, Saida and her husband began having issues.
"We took a little break after I found out about some things he was doing behind my back. His parents left to Montenegro and he was making my life very hard. The hardest thing about being on my own was that I had nothing. At the time even though I didn't love him, I didn't know how to live without him because without him I had nothing," Saida expressed as her annoyance manifested.
As she was walking to the back to get her yogurt, she mentioned that she got back together with her husband, started working in a restaurant receiving money under the table and then became an American Citizen.
"When I found out that Saida's husband was letting her work, I gave her a call to come and work with me at Lilibeth Beautiful Brows & Eyes, which at that time was not a salon, just a small kiosk in the Time Warner Mall," said Meri.
While working at Lilibeth, Saida tried her best to make her marriage work, even though she was starting to support herself. Her and Safet had their third son, Adrian.
She was now a mom of three, a wife, and a working woman. Her life changed more than she imagined.
"After Saida joined our team things were looking up. She was so determined and hardworking. She was taking beauty courses and showed how much she cared about the beauty world in her work. Between her and Meri, they were unstoppable," Peter said. Talk about #GirlPower.
Lilibeth went from being a kiosk in the Times Warner building to being a small salon by the World Trade Center, to now a big salon, with many services, and many more employees in the Upper West Side.
From each location that they moved to and from, Saida worked eight-hour days helping women feel beautiful. She has clients today that have been with her for all her eight years at Lilibeth, who have followed her from location to location.
"She is the best thing that has happened to my face. Whenever I'm sad or getting ready for a big event, I go and see Saida. She always knows how to cheer me up. She did my makeup for my first date four years ago, and for my engagement dinner a few months ago. Her beauty shines from within!" Medina Cami said. Medina is a beauty blogger who has been coming to Lilibeth Brow Boutique since it opened its first location.
Today, Saida is separated from her husband. She is working at Lilibeth fulltime and raising her three sons.
"I wouldn't have it any other way, my husband was no good for me. I always knew that I could stand alone, and that's what I am doing. I don't have any family here and my family back home barely speaks to me, because being separated from your husband and living alone is still considered 'embarrassing'. But those housewives don't have anything on me. I would rather be making my own living as a woman who came here from small Montenegro, raising my kids, and working in the field I am passionate about, than being a housewife, the way my mom, brothers, and ex-husband wanted me to be" she proclaimed.
I have had the pleasure to work with Saida at Lilibeth Brow Boutique for the past two years, and learning her story, inspires me, a girl from Montenegro, just like her, to find a field I am passionate about so that I can succeed regardless of the troubles it takes to get there.