Brandon Fieland Bridges the Gap Between Student-Athletes and Their Community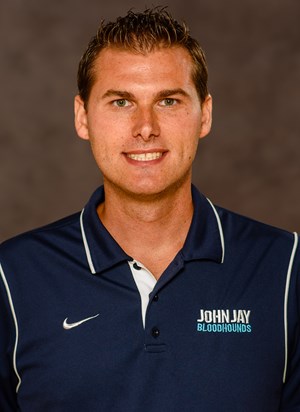 Brandon Fieland, Associate Athletic Director for Media Relations at John Jay College of Criminal Justice continues to use social media to bridge the gap between student-athletes during the COVID-19 pandemic, bringing a sense of normalcy that was otherwise lost.
Fieland graduated from Stony Brook University with a major in Business Management and a minor in Journalism.
He gained valuable experience after graduating where he worked as the Associate Director of the Mets Fantasy Camp in Port St. Lucie, Florida. There, Fieland oversaw many aspects of the camp which included statistics, coordinating field and game schedules, logistics, and assisting professional coaches.
Fieland handles the day-to-day operations of the school's Athletic Sports Information and Media Relations. He is also in charge of all of the varying social media platforms that exist within the John Jay athletics community and the John Jay Athletics website. 
Having control of these platforms is a huge responsibility as it is, yet it became even more significant as the COVID-19 pandemic struck.
Being that on-campus learning and activities have been on hold for more than a year, personal engagements and the college environment, in general, can feel as though they are lost. But for student-athletes at John Jay, Fieland has made it possible through social media, to connect, engage and inspire the athletic community.
Fieland explained that due to the pandemic, certain sentimental moments on and off the field were taken away from athletes. Moments that they looked forward to, such as Senior Day or Banquet, have been prevented due to the virus.
These are two major events that are held to honor student-athletes and give recognition towards their achievements. Because these events take place only once a year, it makes them all the more special to student-athletes. 
"One of the biggest changes for student-athletes has been Senior Day," Fieland said. "We traditionally were able to honor the athlete on the field with their parents, siblings, boyfriend, girlfriend, and give them a plaque, flowers and take a picture. But now we had to transition that all somehow onto social media. That is where we created Senior Spotlight." 
The Senior Spotlight consists of personalized video interviews of each senior student-athlete. These spotlight videos replace the loss of Senior Day with a memorable dedication video. 
Senior Spotlight is only one of the many contributions that Fieland has created through social media for student-athletes. He also puts out flyers for virtual events, athletic department updates, special announcements, and flashback media to when athletes were able to compete.
These contributions to the John Jay Athletics social media page have been the binding factor to engagement for many student-athletes. 
Katie Healy, a member of the Women's Soccer and Basketball teams at John Jay, said Fieland's work has had an important impact during the pandemic. Healy is involved in not one, but two sports on campus, therefore having to find outlets to keep up with both of her teams has been crucial during these times. 
"Brandon and his social media team have allowed me to feel connected to my fellow athletes because I am able to still learn about what my other teammates and athletic community are up to. It's almost as if we were all still together every day," she said.
A benefit of being in college can be the memories created while gaining an education. But losing the capability to create those moments because of the pandemic can be truly upsetting. Especially since it has taken away a year of memories that otherwise could have been made. 
Regardless, social media has become a huge outlet for creating that sense of togetherness, even with the current circumstances. Fieland's job is extremely important, and the importance has only grown during this outbreak.
Fieland continues to tell John Jay Athletics' story, knowing he is connecting the community. Even with the various adjustments that have been made, a sense of togetherness has remained through Fieland's work. 
Healy stated, "The John Jay Athletics social media has been one of the only outlets that have felt normal during this pandemic."
Fieland says, "My job is to tell a story. Meaning my job is to let our community know what's going on in John Jay Athletics and I get this information out through digital, social, and traditional media platforms." 
Being that his job has always been heavy in social media, not much has changed, but the importance of it has grown during COVID-19.  
Fieland works hard to maintain and promote John Jay Athletics as he continues to create social media outlets that bind the student-athletes and their community through the pandemic.
To contact or get more information about John Jay Athletics and Senior Spotlight, visit this website.