How to Combat Sexual Misconduct Proactively and Not Reactively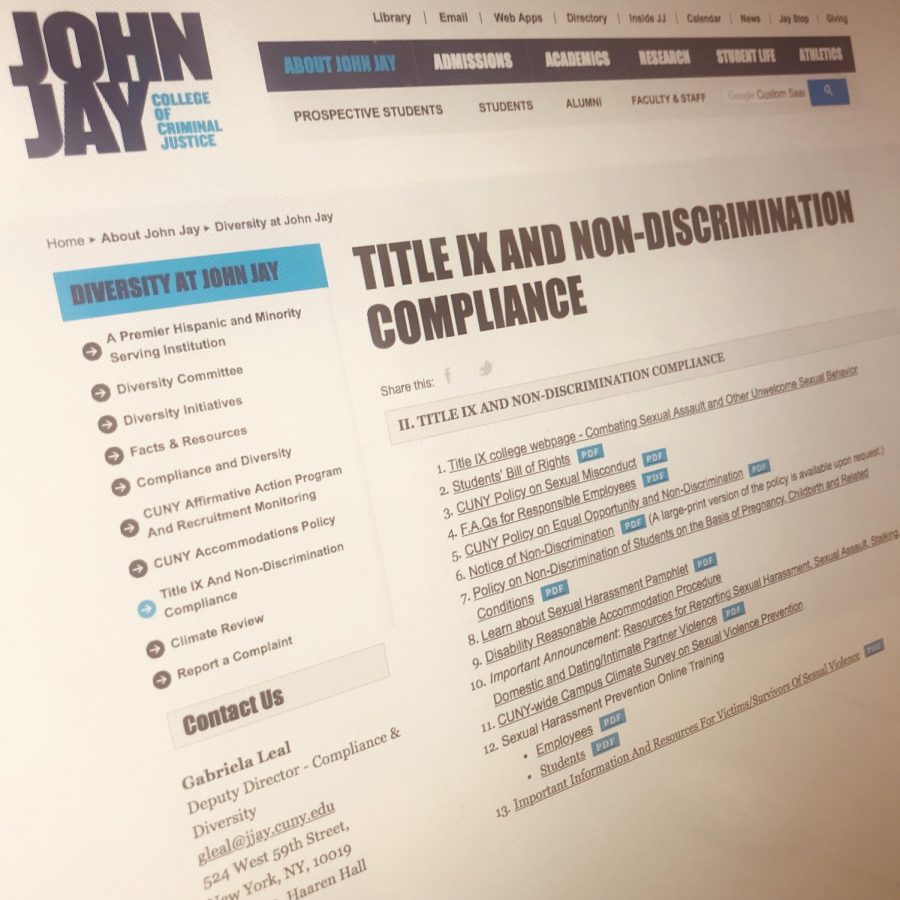 Raven Velez, Writer
March 11, 2019
In late September, last semester, breaking news struck headlines when the sexual misconduct allegations raised towards four professors at John Jay College of Criminal Justice, slammed into the public eye.
Devastating enough, for some, sexual misconduct can be a lifetime battle for various reasons such as post-traumatic stress disorder (PTSD), fear of reporting, fear of victim blaming and other surrounding psychological issues.
At John Jay, Jessica Greenfield, a counselor who works with the Women's Center for Gender Justice located in NB. L.67. works to address such issues.
"So, when I sit down with someone I also try to tell them, listen, this is what is going to happen, and I don't try to like, pressure them in any way, shape, or form, but I also try to be very honest and transparent," Greenfield said.
According to rainn.org, only 230 out of every 1,000 sexual assaults are reported to the police. Part of this can be attributed to a lack of knowledge about the process of reporting.
What really happens if someone wants to make a sexual misconduct report on campus?
"If you say, 'I want to make a report, I want something to happen, I want this person to be held accountable.' then I would say, 'Ok, you could make a report with the school and that would be through the Title IX Office or you could make a report with the NYPD, so you could do both or you could do neither," Greenfield said.
According to yorkpbnews.net 101 complaints arose from 20 CUNY campuses in early 2018. The state report, which they cited, details information on incidents that were reported to the authorities, requests for no contact orders, and outcomes of school investigations.
The "Enough is Enough" law requires colleges and universities to report the number of sexual assaults, stalking, domestic and dating violence complaints made to their respective Title IX offices.
If a student chooses to report through the Title IX office, according to Greenfield, you would sit with a Title IX officer, they'd take your statement and make sure you don't have any safety concerns before they start their own investigation.
Their job is to gather as much information as they possibly can and to ultimately decide as to whether there's enough evidence to support punitive measures.
According to Greenfield, a Title IX complaint is either found substantiated or unsubstantiated. Those decisions are then sent to the Dean of Students and Student Affairs.
"So then, there is a Faculty-Student Disciplinary Committee (FSDC) that will meet and there's basically like a version of a hearing that happens to determine what kind of punishment will come out," said Greenfield.
According to the Conduct Officers, Daniel Officer and Rachel Brown, a claim that is substantiated by Title IX will get sent back to them so that they can conduct their own separate investigation on behalf of the college. In terms of a timeframe, according to the CUNY Policy on Sexual Misconduct, investigations are strongly encouraged to happen within 90 days.
"We attempt to and always try to use this as an educational forum for all parties," Officer said.
A Title IX claim, however, is not a criminal investigation.
"It's important that people know that if somebody decides to pursue justice through the criminal justice system, that can happen at the same time as we are running our own disciplinary process," Brown said.
Prevention and response or proactive instead of reactive are concerns raised by the students and faculty alike.
All incoming freshman, transfer, residential students, and students on athletic teams must complete the Sexual and Interpersonal Violence Prevention and Response Course (SPARC) before enrolling in classes.
To Johnny Nunez, an 18-year-old freshman majoring in Forensic Psychology, it was tedious.
"Maybe the school can design a third-party link between students and public safety," Nunez said.
Sabrina Gargano, a freshman majorig in Political Science, SPARC was informative.
"I think since like people are on social media and stuff, maybe bring more awareness through the website and/or the app," Gargano said.
Jessica Greenfield refers to SPARC as a baseline compliance step.
'It's what we need to do as a school to be compliant with the law and being compliant does not necessarily equal best practice," she said. "Compliance is a very low standard but I think John Jay could do better."
On October 9th, a few weeks after the sexual misconduct allegations rung through the halls of John Jay, posters went up in different places throughout the campus, portraying, detailing, and manifesting empowerment against sexual violence and abuse.
The posters aroused and piqued students and faculty which genuinely ricocheted between proactive and reactive while bouncing on proactive.