Controversial Professor Speaks Up After His Twitter Tirade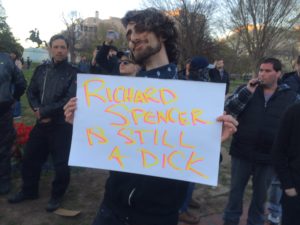 Hang on for a minute...we're trying to find some more stories you might like.
Michael Isaacson has a very clear idea of his ideal society, and for this reason, he has been the target of death threats, insults, and negative public opinion.
Michael Isaacson is an openly antifascist professor who is currently working on his PhD thesis about 21st century fascist movements, mapping the use of social networks by fascists with the hope of creating policies leading to their downfall.
Anti-fascism, said Isaacson, promotes left wing political ideologies through nonviolent protests.
He said, "To me, the best kind of antifascist response is a broad based community, something that does not involve physical confrontation."
Isaacson has been involved in multiple protests and he says that the situation his tweets created has been caused by the misinterpretation of his words after an interview he held with The Hill.
"An organization called Far Left Watch, which targets left wing professors and students started going through my tweets and by the time I went on Tucker," said Isaacson trying to explain how the situation got out of hands. "My name was associated with the screenshots of my tweets."
Isaacson, who started teaching at John Jay two years ago with a class in Economical and Historical perspective, said, "If my students want to pursue a career in law enforcement they need to be prepared for the reality of this. We have a system that is fundamentally set up in the interests of the wealthy because access to the legal system and justice is expensive." A year after he started teaching the professor was given the opportunity to also teach Intro to Economics and Global Capitalism as an adjunct professor, making an of average $3000 per class.
On August 28, Isaacson posted a tweet that went viral and led to chaos around John Jay. Rumors say faculty members received threatening phone calls, but the school has not been forthcoming with more information because professors of the Economics department are not allowed to disclose any information about their former colleague who is now on leave.
On September 15, President Mason sent out an email informing students and faculty of the statements made by the adjunct Professor and declaring that this is a moment of crisis for the John Jay community.
John Jay students and faculty seem to simply have skipped the steps that lead to a deeper understanding of antifascism and Isaacson's words.
A former student who requested to remain anonymous, and who graduated in 2011 with a BA in Forensic Psychology thought, "There was a great deal of anger, frustration, and fear being stirred up and brought to light by the media after Trump's election and the recent examples of officers being acquitted after instances of police brutality."
This mayhem is likely to have been caused by a lack of awareness on both sides of the coin. People might not be informed about antifascism, but Isaacson might have also underestimated the reaction his words would cause.
After learning more about Isaacson, the anonymous student said, "I can certainly see why many are offended and alarmed. A call to violence in what appears to be coming a manufactured hostile environment will be disastrous. Especially during this time of increased protests around the country." Isaacson explains, "It is a privilege to teach at John Jay. It is part of the media tradition of posting where one takes their personal politics and exaggerates it, makes it as outlandish and as offensive as possible. This is something people do all the times on the internet."
Isaacson, during the interview held on September 23, repeatedly explained his view of politics and economics, and how these subjects are related one another.
He said, "Part of my fight here is to defend educators rights to the public life, you have the right to a private life. I believe it is an educator's right and responsibility to be politically engaged, and that requires that we have the same right to a public life as anyone else."
Isaacson said, "I'm against policing as an institution and to me this is something that John Jay actually taught me. When I first was given the job, my impression of criminal justice was cops, but as I taught at John Jay, what I learned is that justice means so many more things."
This is not the opinion of Christian Durante who graduated in 2013 from John Jay with a BA in Police Studies.
"Yes, you are entitled to your opinion, but once you make it public and even make an association known, it becomes public domain, especially with social media. My first impression of Isaacson's words was of horror."
John Jay is an institution known for the formation of cops and law enforcement agents, nonetheless the school's motto is "Advocates for Justice."
Durante defends police officers reminding that, "We are part of a community college that is mostly geared to public service." Isaacson's words were disrespectful and against John Jay's ideology because as Durante affirms, "Police officers are our protectors, they are our heroes."
The anonymous student said, "My hope is that this incident will become a teachable moment for students, professors and alumni of John Jay."
She continued, "Although we are from a wide variety of backgrounds with diverse opinions, what many of us have in common is that we have chosen to take on roles that make us public advocates in the community."
Paradoxically, Isaacson cares too about his students. "I much rather see my students become social workers and learn how to recognize sexual abuse situations before they escalate to violence. I much rather see my students become educators."
The institution's reaction is still unclear because President Mason and other professors are refusing to comment on it, but the students' opinions are clear.
"I think he should be fired outright. Forget about administrative leave, he is still getting paid. If John Jay wants to restore his reputation, they need to fire him," said the anonymous student.
The anonymous student says that she is aware that it is a difficult situation for the college and this is why she suggested, "John Jay should allow open discussions to not only address the issue of our own behavior and decrease instances of abuse of authority and brutality, but also to diffuse some of the anger and eliminate the anxiety and frustration that breeds ideologies such as those expressed by organizations such as Antifa, that seek attention for their struggles through the use of violence."
Durante expresses his feelings more harshly saying, "He did a lot of damage to our college. He personally hurt a lot of people. He doesn't belong in a classroom."
Isaacson is going to fight this battle because he says that he is currently on paid leave, just like a police officer who killed someone.
"I love teaching at John Jay, it is by far my favorite college, and I plan to fight tooth and nail for my job."
He is committed to educate students and encourage them to appreciate the world of Economics, but he also said, "I think if I didn't stand up for what I believe in, that would have undermined my career because it would have been someone else's career I would be living."
Thus far no one asked Isaacson for an apology, and none is forthcoming, "I'll apologize for my tweets when Nazis apologize for the Holocaust," said Isaacson.