John Jay to Postpone its In-Person Commencement for '20 and '21 Graduates Until Spring
December 7, 2021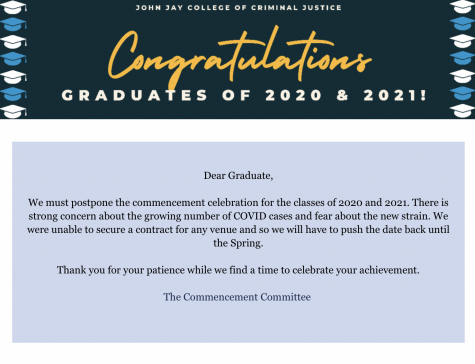 On December 7, five days after Brian Kerr, John Jay's Vice President for Enrollment Management and Student Affairs announced that the college planned for an in-person commencement on January 11 for '20 and '21 graduates, students received an email notifying them that the commencement celebration has been postponed.
The email to the graduates cited "strong concern about the growing number of COVID cases and fear about the new strain." The email also noted that that the college was unable to secure a contract for any venue and will therefore have to postpone the commencement until spring.
When Kerr initially announced the event at the college's December Town Hall, he said that the college had not signed a contract yet but planned to meet with the Barclays Center on December 3 to work out the contract.
Despite the postponement, John Jay, and all CUNY campuses, still plan to instruct 70% of its courses in-person for the spring semester. And at the Town Hall meeting, President Mason said the college does not expect to change its plans.
"We are continuing with the plans we have," President Mason said. "But of course, of course, as we learn more we will pivot and adjust if necessary."