CUNY Relief Program Erases Students Debt, But Eligible Students Are Not Applying
The chancellor's office emailed eligible students, informing them about the CUNY Comeback debt forgiveness program.
The program will help more than 50,000 students with $125 million in aid. The program benefits CUNY students who have faced hardships due to the COVID-19 pandemic.
The deadline to apply for the CUNY Comeback program was November 1st. However, Interim Vice President and Chief Operating Officer at John Jay College, Mark Flower, mentioned that due to the poor response rate from students that qualify for the program, he hopes that CUNY will extend the deadline.
"I know we are not the only campus that has been experiencing a poor response rate," he said. But added, "as of right now we have not been told that the deadline will be extended."
Students who did not meet the financial aid requirements and therefore have not received financial assistance from spring 2020 until spring 2021 can have their debt forgiven with this program. Moreover, financial holds have been lifted to allow students to register for upcoming semesters, thanks to a new CUNY policy.
Tyra Daniel, a sophomore at John Jay who qualified for the benefits, was happy about the program and said it was amazing for students. Around May 2021, Daniel got an email regarding her eligibility. She said she was confused and researched the program.
"At first, I thought it was a scam," she said. "It seemed too good to be true."
Daniel had a balance of $2035 for the spring 2021 semester. However, after she looked into the program, she filled out the application to erase her debt. She said she would like to see the program continue for future semesters.
"It would mean a lot to me because something like this is great," she said. "The help has a major impact."
According to Flower, if students have an outstanding balance in one of the three semesters or during one of those semesters, the program will pay the entire balance that they had owed at that particular point in time.
Flower said 3,209 students were eligible for the Comeback program at John Jay, in which 2,079 students' debt has been paid with this program because they had either filled FAFSA, they owed less than 100 dollars, or they graduated.
Flower said that the remaining 1,130 students needed to submit a hardship evidence application, and they could do that through CUNYfirst to have their debt forgiven.
According to Flower, who is responsible for reviewing the application, only 161 students have had their applications approved. And there is still a significant number of students that have not applied for the program that are eligible. Flower said he is concerned about eligible students who have not applied for the program yet.
"We have been emailing, calling, texting, sending letters through the post office to all the students that have not applied," he said.
According to Flower, although students do not have holds on their accounts now, their balance is still owed. He said if students do not enter the program, their debts will be so old that their accounts will be sent to collection agencies. If that happened, it would significantly hamper students' credit reports in the future.
The program will only cover from spring 2020 to spring 2021. So, if students dropped their courses before March 13, 2020, the program would not cover their balance. According to Flower, there is no plan to cover students for future semesters. However, there remain other avenues for student relief.
"Students can go in and apply for an emergency grant," Flower said. "Those grants will cover house insecurities, food insecurities, cell phone bills."
Flower added that there is also an application in the Wellness Center on the college's website, which sometimes covers tuition.
On November 3, at the college's Town Hall meeting, President Karol V. Mason said the college received $24 million from the American Rescue Plan Act of 2021.
"They're going to give 60% to students enrolled this fall, the remaining 40% will be distributed to students enrolled next spring. So that is every incentive to stay enrolled and return in the spring to get the other 40 percent."
She said students could use the money to pay any outstanding balances.
Ifeoma Okeke, a senior at John Jay, was informed via email that she was eligible for the program. She is currently applying for it through CUNYfirst and also applying for FAFSA.
Okeke has a debt balance of over $2000 and feels relieved to have the opportunity to have her debt forgiven.
"The CUNY Comeback program is going to help me, I believe, because it is going to wipe the balance off," Okeke said. "And I do not have to worry about getting a loan."
A student from City Tech, Vanella Douglas, who graduated last semester, had her debt forgiven of nearly $5000 thanks to the CUNY Comeback program. Douglas did not apply for it. Instead, she immediately qualified for financial aid and automatically had her debt from spring 2021 cleared on CUNYfirst.
"My friend called me, and she shared the news about the CUNY program," she said. In July, a week from discovering the program, she checked CUNYfirst and her debt was clear.
As the fall semester nears its end and the spring semester approaches its start, the college wants students to take advantage of the program and continue enrolling in classes.
"We are encouraging all students to take advantage of this program and register for the spring '22 semester," Flower said. "And please note, you must be registered for spring '22 in order to receive the second ARPA portion of funds."
---
About the Writer: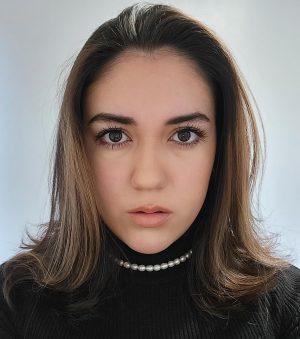 Karina Gavilanes is majoring in Political Science with a Minor in Digital Media and Journalism. She aspires to become a lawyer.
About the Contributor
Fatima Moien, Editor-in-Chief
Fatima Moien is a senior expected to graduate in May 2022. During her time at John Jay, Moien worked as a Team Leader for the ¡Adelante! Latinx Leadership...