A Review of Concrete Cowboy: A Cowboy Movie We Truly Needed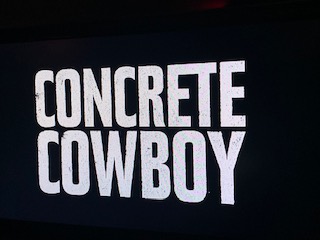 Real Western history continues to be whitewashed and forgotten. 
Woody and Jessie from Toy Story is the first thing I envision when I think of cowboys. The movie is directly linked to my childhood, making it hard to imagine different ways it could be depicted. 
Directed by Ricky Straub and produced by the legends Lee Daniel and Tucker Tooley, Concrete Cowboy is not quite what I expected. This modern approach to a coming-of-age story takes on the lives of urban black cowboys in Philly. 
Based on Gregory Neri's novel "Ghetto Cowboy," the movie centers around Cole (Caleb McLaughlin) who gets sent to live with his father Harp (Idris Elba) in Philadelphia after his reckless behavior in Detroit. 
We soon learn that Fletcher Street is no ordinary part of Philly. Known as the Fletcher Street Urban Riding Club in Strawberry Mansion, the historical sight is filled with stables, horses, and a community full of people willing to change their lives since 2004. 
To this day, the Fletcher Street Urban Riding Club cowboys strive to keep their doors open. Some of the cowboys even made their debut throughout the movie; all they had to do is be their authentic selves. 
Paris (Jamil Prattis) is a paraplegic cowboy who shares true accounts of his life including his story on how he ended up in the wheelchair and lost his brother. 
Forced to share the living room with a horse (that happens to be Smush's) and stare into the empty refrigerator daily, Cole's resentment towards his father leads him back into some troublesome behavior. Cole rekindled his relationship with his childhood friend Smush (Jharrel Jerome) who dreams of a better life outside of Philly.
Their desire to leave Philly drives them to start dealing drugs.
As Cole realizes getting back to Detriot is harder than it seems, while keeping his side hustle, he decides to buckle down and work in the stables. What he didn't expect is to grow bonds with the people like Nessie (Lorraine Toussaint), but the most unstable horse named Boo. 
His growing attachment for Boo has helped him gain a deeper understanding of his father as he has emerged into his world and recognizes the willfulness of the fellow cowboys. When animal control is called to seize the horses, the father-son duo works together to break them out and take back what's theirs. 
A post from Marsai Martin now recognized as the youngest Hollywood producer ever revealed her "No Black Pain" project rule. "I have a couple of rules when you come into my office… I do no black pain. If it's black pain I don't go for it because there are so many films and projects about that, so that's not who I am." 
This is the kind of movie black people have been asking for. No slavery and cop killings; we've seen it, watched it, and live in it every day. This movie is a perfect example of mixing black struggle with happiness. Still, it did have its downfalls. 
Spoiler Alert: When Smush is murdered due to gang-related activity it was truly heartbreaking. His death was uncalled for and because Cole was there to witness the gruesome scene, he is left with the trauma.
Understandably, the riding club was created in hopes to avoid these kinds of situations, and by showing this they have portrayed the dangerous side of Philly. 
Another lackluster part of the movie is Leroy's character, Method Man. He was raised in the stables, but now as a cop his loyalty to those he calls family is questionable. Viewers didn't get a good enough back story of him and were left making assumptions since something always made him come back to the stables.
In some scenes, he seems to try too hard to fit in with the white cops, and instead of supporting his community, he bandwagon's what the other cops are doing like trying to further gentrify the neighborhood. His character overall didn't seem to benefit the movie in any way. The need to add another well-known name to the cast is seemingly the only conclusion to his character. 
Lastly, the potential love story between Cole and Esha (Ivannah-Mercedes) seems like a last-minute thought. Ivannah, who is a real member of the Fletcher Street Urban Riding Club, made her debut in this film. Her character was able to bring light to a movement that is not all boys exclusive; cowgirls exist too. 
When Cole and Esha shared a kiss, I was all the way thrown off. There was never an inkling of romantic interest shown between the two throughout the entirety of the movie. I think the kiss was an in-the-moment kind of thing because as the movie progressed it was like it never even happened. 
All in all, this movie was a great representation of community, family, and love. 
Out of five stars, it is a solid 3.5. Ellis Ferrell the founder of the Fletcher Street Urban Riding Club has started a GoFundMe page with the hopes of raising money for a permanent stable as well as benefitting the community.
Now well over their original $100,000 goal, the future of the riding club is looking bright.