'Two Distant Strangers' Review: A Short Film That Captures Multiple Narratives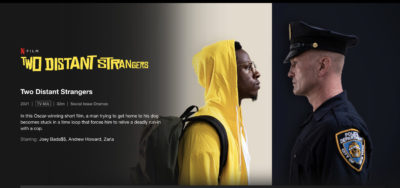 A guy trying to get home to his dog and the system that stands between them.
Like a favorite song played on "repeat," Travon Free's "Two Distant Strangers" is a painfully realistic sci-fi journey of a man trying to get home to his dog. Set in New York City, a young graphic artist awakes in the bed of a presumed one-night stand – one that he initially can't seem to get away from quick enough.
The modern apartment, in a trendy neighborhood, is a passive character used by directors Free and Martin Desmond Roe to reinforce that economic status does not protect black people from racist policing.
Released on November 20, 2020, this Oscar-winning short film is a bright spot in a year of pandemic mediocrity.
It is post-George Floyd murder, and with cell phone cameras, everyone is a witness. Even with this reality, Officer Merk (Andrew Howard) doesn't hesitate to profile and harass young Carter (Joey BadA$$) after he leaves the young woman's building onto the street.
From the implication that the cigarette Carter is smoking smells funny and linking that to the wad of cash Carter drops, Merk has already decided that Carter is a perp guilty of something. As the scene plays out, in front of a woman recording it, young Carter can be heard saying "I can't breathe" (as George Floyd comes to mind at this moment, don't forget about Eric Garner), until the life leaves his body.
Carter awakens from this nightmare to find himself back in the bed of the woman he spent the night with, and so the loop begins.
It is at this point that the title becomes clear, the distant strangers aren't the couple in the bed, they are Carter and Merk. As Carter and Perri (Zaria) awaken again, this time with Carter gasping for air, they begin to share more dialogue and Carter seems less in a hurry to flee.
As similarities to the last scene appear, his fear that it wasn't all just a dream begins to grow. Eventually, he still is on a mission to get home to his dog (Jeter).
Both the acting and directing in this short thirty-two-minute film are refreshing in a year of rushed pandemic productions. The impeccable performances of the main male characters are strongly supported by characters with significantly less time to do so. From the woman selling fruit filming the execution to Jeter himself, they leave an impact on the story that would not have been as powerful without them.
If there is a weakness in impact, it would fall on Zaria's character, not because her acting was subpar but because it seemed as though the part was intentionally given less significance by the writer.
The exception to this was the scene in which police mistakenly break into her apartment (think Breonna Taylor and/or Botham Jean) to serve a warrant on a different apartment. This is a riveting and relevant scene, albeit a bit forced as though the director's understood how important it was but didn't know where or how to introduce it.
In thirty-two short minutes, the audience watches Carter be harassed and killed by Merk repeatedly. There is one reference after another to actual murders by police in America, and the theme is the same; no matter what the individual could and would do differently, the result was going to be the same.
This point is accentuated as Carter, derived from advice from Perri to just talk to the officer, takes the approach of simply asking Merk to take him home, to keep him from the destiny of his nightmares, to protect him, and to serve.
However, to fully appreciate the final nightmare, one must fully absorb the middle of the film. The angst. The fear. The frustration. The scenes that have Carter looking for Merk as soon as he rushes out of the building, running as soon as Merk shouts at him to stop, the looking glass appearances of non-compliance that lead people in the real world to say, "why didn't he just comply?"
Those scenes are effectively intended to show that Carter didn't stop because he knew he was going to die in the interaction, he understood there was no level of compliance that would save his life.
The scene leading to the final kill may have viewers preparing for another Hollywood Kumbaya moment. The one in which an intrusive cliched white hero has a "come to Jesus" reckoning, and leads the audience to a great white hope ending too often exploited in Hollywood (such as "The Green Book" and "The Blind Side").
You know, those movies based on a "Black" story, but the lead and eventual hero, is always the famous white actor that goes on to accept the Best Lead nomination or Award. Fortunately, this is was not the case for this film.
As the pair begin to share dialogue on the ride to Carter's home, and to Jeter, trust and respect appear to build. When they arrive and share pleasantries, even a handshake, and a good-bye, the message is clear; if you are a black man in America, do not let your guard down. Do not turn your back on the police; if you do you will get shot in that very back (like Walter Scott) you turned.
As Carter lies face down on the ground from the gunshot wounds, Jeter is anxiously on the other side of the door, fraught with worry. Such is the case for many of the loved ones people of color in America.
Finally, this brilliant film ends with Carter waking up looking absolutely exhausted from the constant attempts to get home alive. After a conversation between Carter and Perri in which Carter tells her he won't give up, he won't give in to just dying, he will figure something out; he leaves the apartment the final time.
With "That's Just the Way It Is," by Bruce Hornsby and the Range (a homage to Tupac) playing in the background to his own narration, Carter bravely states, "Cuz it don't matter how many times it takes, or how long it takes, one way or another, I'm getting home to my fucking dog."