John Jay Community Responds to CUNY's Vaccine Mandate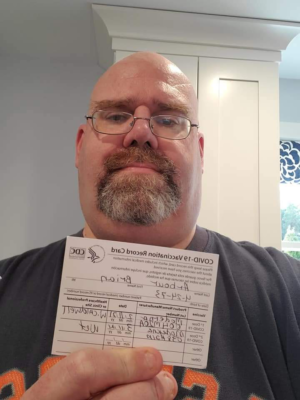 On May 10, Governor Cuomo announced both CUNY and SUNY schools would require student vaccinations for a fall re-opening. The news struck the John Jay community leaving many with ambivalence.
A week before the vaccine mandates, John Jay College had sent out a memo to all students drawing back course enrollment a day before registration was set to begin. The notice planned a four-to-six-week postponement of class enrollment, citing the accommodation of more in-person courses for the delay.
Since New York has grown more readily prepared to return to normalcy,  John Jay College appears to brace for a similar return. The institution's newest plan provides a sturdy mix of in-person and distance learning courses.
Some have thrived, and some have faltered in the virtual setting over the past year-plus.
For those who have struggled to learn online, getting vaccinated became a less difficult decision since the CUNY vaccine mandate was announced ― as students could once again learn in a physical classroom if they were inoculated.
John Palaguachi decided to unenroll from John Jay College when the pandemic caused a momentary lapse of in-person instruction, which ended up persisting much longer than he expected. Palaguachi, who, like many other students, saw the lack of privacy as an issue while trying to learn through a virtual setting.
He was also skeptical about the vaccine itself.
However, upon hearing about the re-entry plan, he jumped at the chance to be eligible to return next semester in an in-person setting.
"I've got to take risks," he said. "I'll take action and get the vaccine."
A fraction of people continue to dread the vaccine or do not want it. Yet recently, there has been a descending amount of doubt on the vaccine given the success of vaccinations thus far.
As for the students who are unsure about the vaccine, many would prefer taking the risk of getting vaccinated to no longer learn remotely.
John Jay College student Stephanie Arias-Matos has yet to step foot into an in-person course at John Jay since she came in under the umbrella of the virtual freshmen class of the Fall 2020 semester. Her crave to learn in-person was caused by her dismay for online learning, which has offered her a unique learning challenge.
"Online learning makes learning with ADHD more difficult for me," she said. "I look forward to being in-person in the fall because I know I'll be able to retain information with in-person instruction and do better on assignments."
The troubles of virtual learning have extended well beyond learning preference. Lack of access to good internet and diminished student-professor communication are a few of the many other glaring concerns that made getting vaccinated premeditated for some students.
While learning online has its challenges, uncertainty around the vaccines could still keep some students away from in-person courses this fall.
Despite having committed to teaching virtually next semester, John Jay's Political Science professor, Jennifer Rutledge, expressed a belief in science, and according to the evidence, the vaccines protect us all she said.
However, she understands the sentiments of those who still oppose the vaccines. She anticipates that there will be at least some form of exemptions within the CUNY mandate, primarily for medical reasons.
"I have family members who won't get the vaccine for religious reasons," she said. "I am fairly sympathetic to the vaccine arguments, but we live in a community, we owe the others in the community respect, public health is one way to respect."
Out of deference to public safety, around half of New Yorkers are fully vaccinated, and in many parts of the country, mask mandates have been lifted for vaccinated individuals.
Since the city has made the vaccines more accessible, especially to every person over the age of 12, CUNY has been adamant about encouraging students to get vaccinated. The central idea has appeared to be that vaccinations lead to safety, and safety proceeds to normalcy.
But perhaps troublesome for John Jay's goal of transitioning to a more in-person class model for the fall is the challenge students are forced to face other than getting the vaccine ― how to adapt to the abrupt change in schedule.
A slim but significant number of John Jay students work, and some full-time. Schooling entirely remote has alleviated many stressors from the students with responsibilities outside of the classroom. After the sudden shift in re-opening plans, working students must prepare for a busier schedule in the fall.
Morgan Winston works full-time while attending John Jay College. She is set to graduate in December despite not taking a step on John Jay's Manhattan campus yet. Her appreciation for online schooling shares several commonalities with fellow John Jay students and faculty. Such as not having to commute to John Jay daily.
Still, she admits it comes at the expense of relationship building. And while she remains certain she will keep her class schedule partially online next semester, she wants students to take the opportunity to get vaccinated.
"There's no excuse not to be vaccinated," she said. "All our lives, we have been required to be vaccinated on some level to attend school."
Vaccinations are not new, nor are compulsory vaccinations, which favors John Jay's attempt to sway students toward honoring its vaccine mandate for the upcoming fall semester.
What also looms large for CUNY's re-opening plan is the healthy mix of virtual classes they plan to offer. It should provide enough time for the students rejecting the vaccine to contemplate getting vaccinated. As for the working students, they could benefit from limiting the amount of in-person courses they choose to take this fall.
But for those unsure of getting vaccinated, Brian Arbour, professor of Political Science at John Jay College, said the decision to get vaccinated should be easy. He feels that vaccinations are earnestly in the best interest of every individual and the collective interest of society.
"By getting vaccinated, you help yourself, your fellow students, your fellow faculty," he said.
While it holds that getting vaccinated dramatically lessens the chance of contracting the virus and its severity, some feel obligated to the choice of getting vaccinated or not.
But like the many viruses previous, vaccinations led to the end of the surge and spread of the given virus, and a large part of it was school-mandated vaccinations.
"I hope John Jay students will avail themselves the vaccine," Arbour said. "It is good for them, it is good for everyone else."