John Jay Students Express Hesitancy as New York City Reopens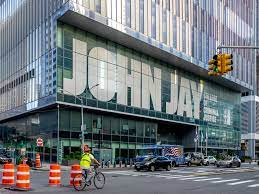 May 19 set the start of a "major reopening" for New York. Governor Cuomo announced that a majority of capacity limits will no longer be in effect. This means that gyms, restaurants, theaters, recreational centers, offices, and other public spaces will be available for use without the need for limited capacity.
CUNY has also recently announced Fall 2021 classes are being set up for 60% capacity in person. Students will finally be allowed back on campus for some of their classes after more than a year of distanced learning.
"I don't know how to feel because I want to be on campus but I also feel like there might be a spike in cases again," said Goksu Ackan. "Then they would just have to shut down and we'd go back to learning from Zoom."
The announcement from CUNY came with the news that all students registering for on-campus classes would have to be fully vaccinated before the start of the semester on August 25.
"I don't think life will ever return back to normal everywhere," said Edina Kolenovic, a John Jay student. "Some people are extremely paranoid."
This major reopening does not guarantee that life will be the way it was before the COVID-19 pandemic, especially on campus. Social distancing is still required in public spaces that do not require negative COVID tests or proof of vaccination.
In restaurants, however, people will be able to sit more closely with the use of physical barriers like dividers.
CUNY campuses will likely be following similar protocols as the CDC does not recommend large indoor gatherings, even to those who are fully vaccinated.
Although the CDC announced that vaccinated persons can gather outdoors without the need for masks and social distancing, it is likely that mask use will still be required on campus. Students can expect temperature checks and social distancing when attending classes.
"I just miss the way it was before," said Ackan. "We'd sit in the student lounges or be on the Jay Walk between classes and it was great."
While some people are eager to get have their pre-COVID lives back, others are wary. There is a sense of fear surrounding in-person meetings.
"As much as I'd love to get things back to normal I don't think it's a good idea to open NYC to its fullest capacity just yet," said Tasnia Sharif, a John Jay student. "I'm fully vaccinated already but I still want to practice wearing a mask and social distancing for everyone's safety."
For freshmen, this return to in-person learning will be their first time on campus and very different from the pre-COVID John Jay experience. Those who were finishing sophomore year before quarantine will find themselves saying goodbye to John Jay once again as they prepare to graduate in the Spring 2021 semester.
"I'm graduating this semester but if I wasn't I would be really excited for in-person classes," said Musabika Nabiha, a senior. "It would be nice to have the ability to do things in person again."
While the campus reopening comes as a positive beacon that the pandemic is slowly declining, campus life could be forever changed. It is not difficult to imagine classrooms where students are sitting 6 feet apart from each other.