A Review of Thai Cuisine in Prospect Heights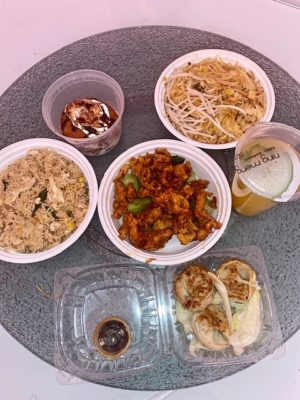 Udom Thai has been opened for a little over 14 years with a thriving bar scene and charming restaurant.
Located in Prospect Heights, just minutes away from Grand Army Plaza, Udom Thai is one of the oldest and first restaurants to specialize in Thai cuisine in Brooklyn. 
As soon as I walked in, I was greeted with a friendly and warm smile by the employee at the counter. I made it known to Suttipun that it was my first time and she proceeded to show me the menu.
Their menu is divided into categories and extremely easy to read as it has pictures. This makes it easy for first-timers like me to know what to expect. They also have a wide variety of vegetarian and gluten-free dishes.
The best part was the price, with the least being $4 and the most being $26. This makes it very affordable.  
Thai food is known for its enthusiastic use of fresh herbs and spices. Common flavors include garlic, galangal, coriander/cilantro, lemongrass, shallots, pepper, kaffir lime leaves, shrimp paste, fish sauce, and chilies.  
I ordered the pan-fried dumplings for appetizers, which were $5.50. Then I ordered the national Pad Thai (chicken) for $11, the gluten-free spicy basil fried rice (chicken) for $11, and the Udom signature Volano Chicken for $15 as the main dishes.
For dessert I ordered, the fried ice cream in the coconut flavor and to wash it all down, I had the virgin mango mojito.  
While I waited for my food, I could not help but notice the layout and design of the restaurant. The first thing that caught my eye was the big buddha that was seated across the entrance. A light shone above it, which made it feel sacred. Right underneath the buddha was make-believe food in a small woven basket. The oranges, pears, and bananas were made to look like a sacrifice to buddha.
The restaurant was small, but it felt authentic. It was divided into two halves. On the left of the first half were high stools lined up, diner-style. I guess it was for people who were waiting for their orders because that is where I sat while waiting for mine or for people who preferred to sit alone.  
On the right was the counter. It was lightly decorated with just the cash register and the big menu book present on it. Behind the counter was the bar, where the drinks were made.  
Looking further down the restaurant, the walls were covered in elephant wallpapers, the brown chairs were neatly tucked in, and present on every table were hot sauce and salt and pepper shakers.  
I started with the pan-fried dumplings (Gyoza). This appetizer is not peculiar to the Thai's alone. However, their dumplings are quite different from the regular dumplings you would get at your local Chinese takeout.
Three dumplings were served with cabbage and garlic soy sauce. The vegetable-filled dumplings were chewy and lightly fluffy. While I would most definitely be going back for more, I felt as though they were not authentic.  
The Pad Thai is a national stir-fried noodle dish. The Udom Thai Pad Thai is a sauteed Thai rice noodle with egg, bean sprout, scallion, and crushed peanuts with my choice of protein being shredded chicken.
It was recommended on the internet for people trying to ease into Thai food. It was compared with visiting New York and not going to Times Square.  
I was honestly scared to try this dish because of the eggs and peanuts. However, they were barely noticeable. You could be halfway through the dish before you would notice the peanuts or the eggs.
Usually, Pad Thai is salty with a hint of sweetness. However, it is impossible not to taste the citrusy lime flavor. The lime flavor gave the dish a fresh and cooling taste like it would taste just as amazing if eaten cold.  
Thai fried rice was a must-try on my list. The Hawaiian fried rice looked tempting, with a picture of it served in a pineapple, however, the spicy basil fried rice was a much better option and worth my $11. The Udom Thai spicy basil fried rice is made with fresh basil, bell peppers, onions, garlic, scallions, carrots, snow peas, and egg.
The best part is that it is gluten-free. The rice was well cooked and lightly oiled. It was the best one yet, probably because it tasted remarkably familiar. However, it was not spicy like the name suggested.  
I ordered the Volcano Chicken because it was one of their signature foods, and I wanted something that would make me sweat. However, I was disappointed as the volcano chicken did not have any hint of spice to it. Which made me wonder why they named it the volcano chicken. 
The chicken was crispy and served with pieces of broccoli. It was more sweet than spicy. However, I would order it again.  
The taste of the coconut in the coconut flavored fried ice cream was very evident. The brown, hard, crunchy topcoat tasted oily. Which was a little disappointing.
The virgin mango mojito was amazing. It was refreshingly soft and tasted fresh. I also loved the minty kick to it. It made me eager to try the actual mango mojito.  
Overall, I would give Udom Thai a 4 out of 5. It is an amazing local restaurant to try for first-timers.
The environment feels safe and peaceful. Also, if you want to enjoy more of a peaceful afternoon, the Brooklyn Museum is just a ten-minute walk away from the restaurant. However, if you enjoy spicy food, this might not be the best option for you. I would be returning to try more of their appetizers and specifically for the pan-fried dumplings.  
The restaurant is located at 661 Washington Avenue, Brooklyn, NY. It is an 8-10 minute walk from the 2 and 3 train.