Asian-American Sex Workers Are More Vulnerable To Violence Than Ever
As hate crimes against Asian-Americans reach an all-time high, Asian-American sex workers are particularly vulnerable to violent attacks.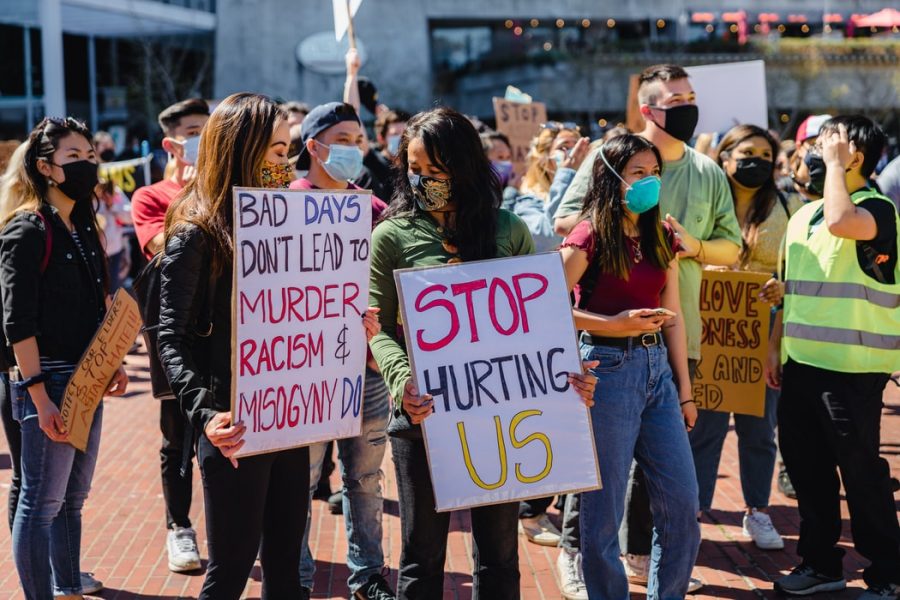 On March 16, 2021, a shooting was reported at Young's Asian Massage and the Gold Spa in Atlanta, Georgia. The suspect, Robert Aaron Long, killed eight women, six of whom were Asian American. According to the reporting of Nicholas Bogel-Burroughs of the New York Times, Mr. Long had allegedly "spent several months being treated for what he described as a sex addiction and regularly went to massage parlors for sex."
John Jay Associate Professor and author of Sex Work Politics: From Protest to Service Provision,
Samantha Majic Ph.D. explained that "the fact that the killer said he had a sex addiction and basically wanted to kill the sex workers to "fix" himself [is] certainly evidence of how he, and others, view sex workers as a disposable population." 
Professor Majic went on to say that "the events in Atlanta underscore sex workers' broader vulnerabilities to violence, given the stigma, lack of labor protections, and other occupational health and safety concerns they face."
Sex work, which is still criminalized in the United States, leaves many sex workers vulnerable to violent (and potentially lethal) clientele with no legal pathway to ensure their safety. Additionally, sex work is not considered legal work, which means that sex workers are not included in the labor movement or union organizing campaigns. 
"Many non-traditional sectors of works haven't been included because of the difficulty to organize," said John Jay Associate Professor Susan Kang Ph.D., whose research ranges from labor and human rights to international law. 
She explained why there had been so much difficulty incorporating sex workers into the labor movement's efforts, "Service workers are traditionally in one place so they are easy to find, whereas sex workers who may use the internet for their services are much harder to find and organize."
Professor Kang emphasizes the need for "public sympathy" as a significant component for success in organizing. If the general public cannot identify with or express sympathy for a certain sector of workers, then that movement is less likely to succeed, "The pandemic creates new political opportunities for organizing but then forecloses on others."
But public sympathy for sex workers is far from being normalized. 
Professor Majic said that most public policy specifically bars sex workers from gaining access to governmental resources. "A lot of sex workers were excluded from COVID relief; the CARES ACT had very specific provisions about money not going to people with prurient interests. If you were an independent contractor working at a strip club, you weren't eligible for this money. So right away, you have a whole population that is cut out from the aid that's available."
The Asian American women killed in Georgia were especially vulnerable because of their intersecting identities as sex workers and Asian women.
There have been vast increases in hate crimes against Asian Americans since the COVID-19 pandemic. Stop AAPI Hate, an organization dedicated to reporting Asian American and Pacific Islander hate crimes at the national level, released their 2020-2021 Report, which registered 3,795 incidents of hate. 
They also found that women were 2.3 times more likely to report a hate incident than men. Stop APPI Hate press release statement called on the government to protect "Asian Americans from heightened levels of hate, discrimination, and violence. Concrete action must be taken now. Anything else is unacceptable."
One day after the shooting, the House of Representatives voted to reauthorize the Violence Against Women's Act which seeks to close loopholes that previously allowed violent offenders to purchase firearms and extend the laws reach onto tribal lands. But there is an apparent uphill battle to be had in the Senate. 
This lack of government accountability explains why sex workers and women alike will have a continued reliance on non-profit organizations for the roll-out of health and safety services.
Many individuals and non-profit organizations have called for decriminalization to mitigate the harms of illegality. 
"Under a decriminalization regime, sex work, and in this case prostitution, would exist like any other activity that isn't specially regulated. They would have to pay the same taxes any others might have too," said Professor Majic. "It's been very difficult for this community to do lobbying and activism because you have to first admit you're doing something illegal. And then come out and say, we need to change the law about [sex work]."
Decriminalization could also lead to unionization efforts, allowing industry leaders to lobby and organize for statutory protections more effectively. For example, the way the New York Hotel Trades Council issued panic buttons in response to sexual assaults against women working as room attendants in hotels.
Professor Majic maintains lawmakers should be listening to the sex workers themselves. "The sex worker community has really come together and taken a lead in these conversations [and] we should be listening to them first, before anyone, for guidance on how to respond."
Red Canary Song held a vigil on March 18, to "mourn the eight lives lost during the shooting [and] pay honor to the individual victims and send our support to the survivors."
The Asian American Resource Center of Georgia has created a GoFundMe Page where "100% of all donations will go directly towards the victims' families for funeral and arrangement costs."