John Jay Students React to Sexual Harassment Allegations Against Governor Cuomo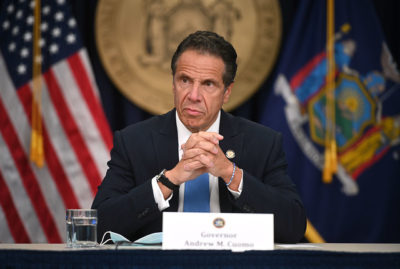 New York Gov. Andrew Cuomo is adamant about not resigning, despite the growing calls from legislators and lawmakers.  
He could be facing impeachment based on the investigation into the sexual harassment allegations made against him by seven women, four of whom worked for him.
After the first accuser, Lindsey Boyland came forward in December 2020, the other women made their voices heard, with one coming forward in February and more allegations emerging days after. 
The latest accuser currently works for him, having come forward last month. The current aide claimed that Cuomo made suggestive remarks towards her and another employee, sometimes in Italian, and stared at her body.
This comes as he is already facing heat for the handling of COVID-19 nursing home deaths by his administration.
The claims began only shortly after he faced heat for mishandling COVID-19 nursing home deaths under his administration.
For students like Naylea Henriquez, when the first allegation surfaced, she was astonished.
Henriquez, a Freshman and Forensic Psychology major at John Jay said, "At first, I thought it was one of those Twitter jokes, but when I realized it was real, I was surprised because he was very vocal about the 'Me Too' movement."
Other students, like Anthony Garcia, had a contrasting view of the allegations.
Garcia, a Freshman and Law & Society major said, "I was like, 'wow, kind of unsurprising.' But I thought it was very troubling and needed to be addressed immediately."
At his first public appearance on March 3, since the accusations surfaced, Cuomo apologized for his behavior and claimed he didn't know he was "making anyone feel uncomfortable."
One week after he issued an apology, Cuomo's office reached out to former employees concerning a woman who accused him of sexual harassment.
Dartagnan Lyras, a Freshman and History major saw those calls as anything but professional.
"Any lawyer would tell you that's the absolute last thing you want to do, and that's for good reason," he said. "I feel like he lost what little respect he gained during the pandemic."
Some would say that Cuomo became a household name during the pandemic because of his handling of the coronavirus crisis, especially for his advocacy for New York and holding daily briefings.
"In the first half of the pandemic, it was very scary and confusing, and every day I would watch his briefings," said Garcia. "It was quite comforting actually."
The allegations pressure New Yorkers and lawmakers to assess Cuomo differently this time around.
Grace Villegas, a Sophomore and Criminal Justice major, suspects she narrowed down the logic behind Cuomo's stance.
"I think the reason he doesn't want to resign is that he's had the power for so long; he wants to keep it," she said. "But all the backlash is going to get to him."
Lyras, on the other hand, thinks this could turn into a case of "guilty until proven innocent."
"A simple accusation should not destroy a man's entire career," he said. "We are a country firmly rooted in due process and we cannot lose that."
With the impeachment trial and investigation underway, Cuomo will be forced to ask himself what his legacy could look like. Will three terms of governorship be wiped away?
Henriquez thinks his legacy could be at stake.
"He could've done a million good things but one bad thing outshines it all," she said.
As a New Yorker and a college student, Villegas reflected on how this impacts her moving forward.
"When it comes to voting and we put these people into office, we have to pay more attention to who we're voting for and what they stand for," she said. "They can say one thing and do another."
As more details unfold and the focus shifts to vaccinating a majority of the population, Cuomo is certain about not leaving office before his time.
He was re-elected for a third term in 2018 and plans to run for a fourth term in 2022. His successful re-election all depends on who voters will cast a ballot for.
"He was someone who I thought of as a great leader during this pandemic," said Garcia. "One who was comforting, very honest, straightforward, and now I don't view him in the same light."