The Quick Guide to the Phases in New York City: Businesses and Traveling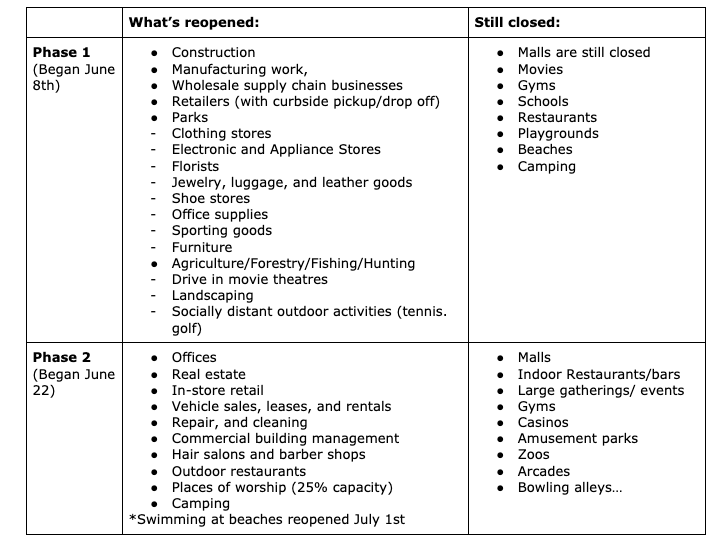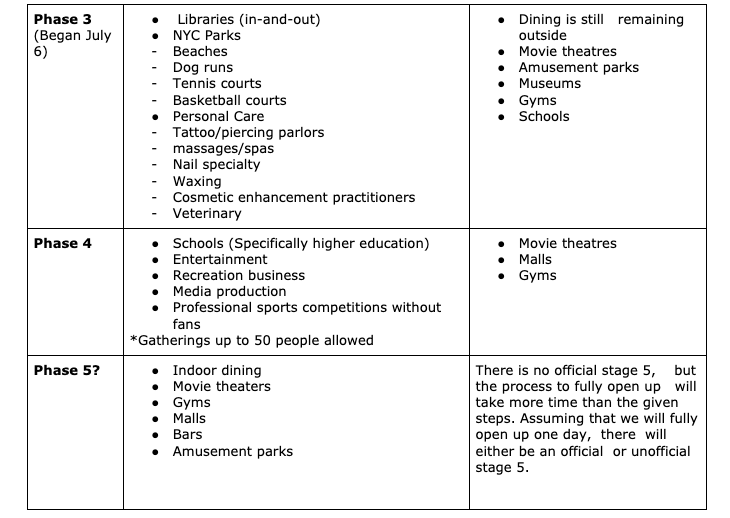 *Keep in mind while these places may be open, there will still be occupancy restrictions, and a mask must still be worn. 
For more detailed information on the phases.  
General Info: 
-Masks are still important to wear!
-The Subway will be closed from 1 am – 5 am for cleaning for the foreseeable future. 
-Metro busses are still free (must enter from rear door) except for Select Bus Service, in which you pay before you get on. (Payment for busses is planned to resume in August). 
-Alternate side parking will be suspended until July 19th and once it resumes there will be an adjustment. If there are two cleaning days, only the second one will be observed. For ex: If the sign says street cleaning on Monday and Wednesday. Only the second day- Wednesday, will the street be cleaned. Meaning, you only need to move your car on Wednesday. 
Traveling: 
*CDC recommends to avoid non-essential travel to all global destinations
Traveling within the U.S: 
If you are coming into NYC from the following 16 states, you will need to quarantine for 14 days. 
Alabama, Arkansas, Arizona, California, Florida, Georgia, Iowa, Idaho, Louisiana, Mississippi, North Carolina, Nevada, South Carolina, Tennessee, Texas, and Utah
International Travel to the U.S:
Were you aware of what the phases entailed before you read this?
Sorry, there was an error loading this poll.
Countries that are prohibited from entering the U.S: China, Iran, European Schengen area (Austria,  Belgium, Czech Republic, Denmark, Estonia, Finland, France, Germany, Greece, Hungary, Iceland, Italy, Latvia, Liechtenstein, Lithuania, Luxembourg, Malta, Netherlands, Norway, Poland, Portugal, Slovakia, Slovenia, Spain, Sweden, Switzerland, Monaco, San Marino, Vatican City), United Kingdom (England, Scotland, Wales, Northern Ireland), Republic of Ireland, Brazil 
*U.S citizens, some family members, and specific individuals may come back into the U.S but are strongly encouraged to quarantine for 14 days.