Professor Donaldson and His Mission at John Jay
In John Jay's New Building, students skim through gray newsprint pages. It's Tuesday, during Community Hour, and while some students are out getting lunch, others spend their free time in a classroom reading The New York Times.
A man with crystal blue eyes sits with his legs crossed and observes everyone in the room with intensity for a few seconds, before looking at his copy of The New York Times – a newspaper that Professor Greg Donaldson believes should be read by everyone, including John Jay students.
"You can't be informed without reading it. It enhances your reading and information level," Donaldson said. "I just try to get students to join so they can compete with people that do read the New York Times."
These 'Times Talks' are meant for students to enhance their vocabulary and learn about what is taking place in the political world. Donaldson brings that outside knowledge to his classroom in hopes that students come out with a more open mind.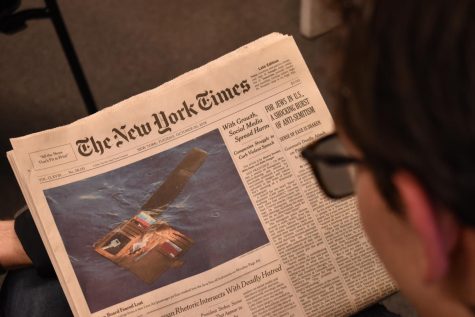 "The best part about the Times Talk is having deep conversations about the stuff we read because the topics we covered are never discussed much in public," said Andy Lee, a junior majoring in Criminal Justice.
Professor Donaldson has taught Communications and Theater at John Jay College for eighteen years since 2002. His Communications 213 class consists of reading 1984 by George Orwell and All The President's Men by Bob Woodward and Carl Bernstein. Donaldson engages his class in deep discussions about the themes in the literature or journalistic pieces of work.
Donaldson enhances students' public speaking skills and believes that it will benefit them in their futures.
"I would recommend Donaldson's class if you have a great sense of humor and don't struggle too much with anxiety cause Donaldson is not the type of professor who will let you sleep in his class without being picked," Andy said. "You need to be extremely lucky if you can stay quiet in his class for the whole semester without being noticed unless you don't show up to class, but that's a completely different story."
Before his teaching career began, he was on his way to law school. But, Donaldson was drafted into the army during the Vietnam War. He had to fight and there was no escaping or running away from it – or so he thought. There was one way to avoid fighting.
Donaldson was given the option to become a teacher in a school lacking instructors.
The school was located in Bedford- Stuyvesant, Brooklyn, and nobody wanted to teach there because it was considered dangerous and in the "ghetto."
Teaching began with a rough start. "The kids were hard to discipline and they weren't well prepared BUT," Donaldson said while pointing his index finger, "Something got switched, and I started to get better and more committed to it. And then I started to realize, as the years went by, that my skill – my talent – is in teaching."
And so, his legacy as an educator began.
Before teaching at John Jay, Professor Donaldson has taught students from nearly every educational level or situation. He has taught at elementary schools, middle schools, high school equivalency programs, in Community Colleges, and even in the prison system. However, one school stands out to him to this day.
In 1972, Donaldson was teaching at PS. 129, where he taught 5th and 6th-grade students with disciplinary problems. The school organized the class of students into a community and named it "The Opportunity Class." Donaldson knew that the kids would be hard to handle.
On the first day of class, he gave a small speech to the students. Donaldson told Champ, a young student in the class, to stand by the door and keep guard to make sure the principal did not walk in. Although confused, Champ obeyed his orders and stood by the door. Donaldson did not like the principal of the school. The principal, whose name Donaldson did not mention, said that he was a loser and nothing but a gym teacher and basketball player. He doubted Donaldson's ability to teach the class.
At that moment, he captivated the student's attention and asked them a question. "But you know what [the principal] said about you?" he said, pointing at all the children in the classroom. "He said you are a bunch of losers too. You can never graduate from the sixth grade." Donaldson paced around the room and continued his speech, convincing everyone that together they could "shove those words down his throat."
His goal was to make this class the best one in the school and prove the principal wrong. After he was done speaking, he recalls how everyone became a team throughout the whole year and worked together. They all graduated and proved the principal and the school wrong.
To this day, he is still in contact with some of those students from that class. Donaldson became like a father figure to the kids who looked up to him.
"I am the godfather to their children," he said with a grin on his face.
During his years at John Jay, he has inspired students to keep moving forward and chase after their dreams, whether those dreams have been to become a police officer, a lawyer, or something else entirely. When Donaldson notices that a student is hard-working, ethical, and smart, he does his best to guide them in the right direction. Sticking with a career choice can be tough for many college students, so, Donaldson plans to help them conquer their futures, and contribute to the world.
A former student in Donaldson's class, Jeremy Wong, has earned the nickname "The Asset" for his knowledge in history.
"The biggest thing I remember from his class was me giving my presentation and him guiding me through the presentation giving me confidence in my own speaking abilities," he said.
During a class, to keep the energy feeling vibrant and exciting, Professor Donaldson enjoys weaving his teaching and acting skills together. With a can of Pepsi in his hand, he makes his grand entrance to the classroom. The moment the doors open, he is immediately down to business and wants everyone to be engaged while participating in the class discussions. He wakes everyone up with his deep booming voice and makes sure that even the quietest person in the class participates.
"My first commandment is that 'Thou shall not bore the class,'" Donaldson stated in a firm voice.
Bringing the real world into the classroom is another one of Professor Donaldson's goals when it comes to teaching students. He enjoys sharing his past experiences as a journalist. He was always in the streets, and on occasion, would wear bulletproof vests to protect him in dangerous areas.
"I was always writing articles about inner cities and cops," he recalls. "The excitement and adventure of the streets are also things I bring to the class."
Professor Donaldson has also published a book called ZebraTown. Students have the privilege of reading his book about Kevin Davis, an ex-convict from Brownsville, Brooklyn, who decides to live in Elmira, New York, and form a new life.
Donaldson spent almost eight years writing this book, and his reporting shows how Kevin has survived both the streets and prison. He has invited Kevin to speak to his classes about his experiences in the prison system and how he managed to get his life back together.
"He was a convicted criminal and murderer," Donaldson said. "And he's in my office, and then he's coming into my classroom!" Everyone in the class gets so surprised or excited when he invites Kevin to speak to them in person. This kind of exposure is what Professor Donaldson means about bringing the real world into a classroom.
Donaldson is aware that some students are afraid of him, but he believes that sometimes, a little bit of fear can be a good motivator.
"After students take a class we tend to forget what we have learned because we stop taking the class, but with Professor Donaldson, it's different," said Jimmy Tejeda, a junior majoring in Criminal Justice. "His method of teaching consists of repeating himself and constantly asking his students about the material."
Even if you have never taken Donaldson's class or if this is the first time you ever hear of him, he has a message for everyone in the Bloodhound community.
"These are the best years of your life. These classes are the launching path for your life. Treat them that way. And there's a quote I always use, 'Be a person on whom nothing is lost – absorb everything.'"
Not only is he a teacher, but he is a mentor, and he cares deeply about his students.
Donaldson hosts his 'Times Talks' every semester, and they are open to every student. He does not plan on leaving the John Jay community anytime soon.
"I'm gonna keep doing it until they drag me out of here," he said.
Correction: December 17, 2019
In a quote, Kevin Davis is referred to as a murderer but Kevin was actually never convicted of murder.