Constructing a Lie: ACLU Sues Kansas County for Voter Suppression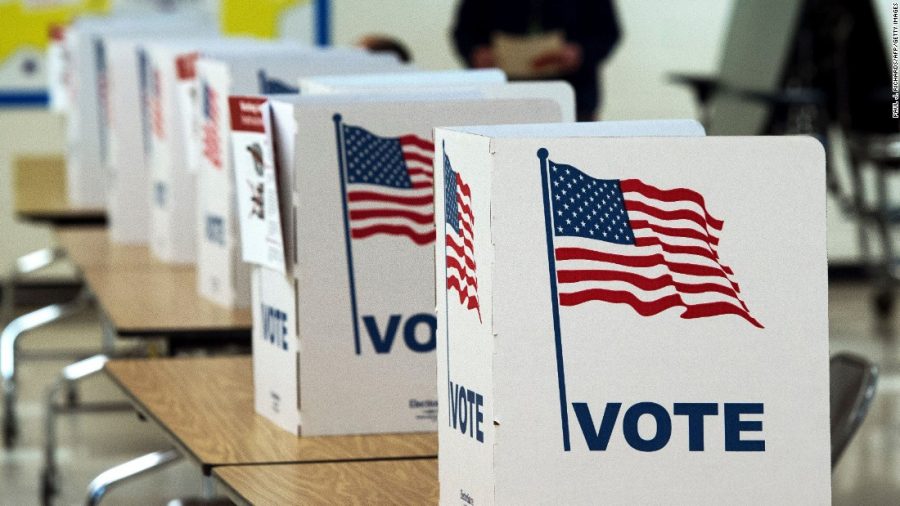 Barbara McCarthy, Writer
November 5, 2018
Like many first-time voters, 18-year-old Alejandro Rangel-Lopez, a Dodge City, Kansas high school student, was excited about the prospect of voting for the first time in November. Little did he know his story would soon be heard across the nation, joining a chorus of claims of voter suppression involving minority citizens like himself.
Dodge City is comprised of 27,000 people, with 13,000 eligible voters. Hispanics make up 60% of the total population.
Soon after registering to vote, Rangel-Lopez found out that the Ford County Election Clerk recently moved the usual polling site from the Civic Center in Dodge City to a new location, not in Dodge City.
This new voting site is a mile from the nearest bus stop. The area has no sidewalks for on-foot travel, and it is heavily trafficked by trucks and cars. County officials announced in September that the Civic Center site was no longer safe due to heavy construction, which was supposed to begin in October.
Rangel-Lopez became concerned and called the Kansas ACLU and agreed to become the plaintiff in a lawsuit suing the Ford County Clerk, Deborah Cox.
Cox is the official who made the final decision to move the polling place. The ACLU claims the decision to move the site to an inaccessible area is illegal and unconstitutional.
"My vote is important to me because it extends beyond myself. It presents the opportunity to speak on behalf of immigrants like my parents were, young people, and other members of my community who do not have the right to vote. My civic participation is for all of them," Rangel-Lopez wrote in his affidavit.
In a press release, Mark McCormick, the Director of Strategic Communications at the Kansas ACLU, said, "The inaccessibility of the new polling place places an undue burden on a substantial portion of the citizens of Dodge City because many do not own cars and do not have flexible work schedules to work around their factory shifts."
Many Dodge City citizens are employed by two meatpacking plants that operate 24/7 in Dodge City.
"People just can't leave the plants to vote," Rangel-Lopez said. "You just can't run over on your lunch break."
The ACLU lawsuit is not just about the hardship in getting to the polls, but about having only one polling place for 13,000 voters. Dodge City's only polling place has been made to serve 13,000 voters for 20 years.
Most Kansas polling sites, according to Johnny Dunlap, Chairman of the Ford County Kansas Democratic Party, serve 1,200 citizens on average. "This is a slap in the face to voters here," he said. "They should be making voting easier not harder."
Confusion continued to reign even after the move was decided as many registrants received notices that directed them to the old polling place: the Civic Center.
The ACLU emailed Deborah Cox, now the lawsuit's defendant, about the matter. The organization asked Cox to aid voters by publicizing a helpline to let them know the correct place to vote.
Ms. Cox forwarded the ACLU request to her superior, Kansas Secretary of State Kris Kobach, who was running for governor as a Republican. Ms. Cox's message to Kobach was brief; it read, "LOL."
Cox's office was contacted to comment on the situation. Her office directed media inquiries to Bradley Schlozman, the attorney now representing Ford County. His office has not responded as of yet.
Schlozman, a former George W. Bush Justice Department official in the Civil Rights Division, has faced scrutiny and investigation before. According to CBS News, some of Schlozman's 2006 inter-office emails revealed hiring biases and his determination to politicize the department.
In a 2006 report to Congress, Bush Inspector General Glen Fine found some emails by Schlozman that frequently made references to Republicans as the "real and right-thinking Americans," and described others who did not fit his political views as "pinkos," "commies," and "adherents of Mao's Little Red Book."
Mr. Schlozman's office was contacted for comment again but did not respond.
At 8 pm on November 1st, U.S. District Court Judge Daniel Crabtree ruled that Cox does not have to open a second polling site. He said that while he is "troubled" by Cox's "LOL" remark, he believed opening an additional site so close to the November 6 election, would be "confusing" and "not in the public's interest."
In response to the ACLU claim that one polling place was not sufficient for 13,000 voters, Crabtree ruled that the plaintiff had "20 years to present that claim." To reiterate, Rangel-Lopez is 18 years old.
People around the county responded to this story and contacted the Kansas ACLU, asking how they could assist voters with transportation to the single polling site.
Via a November 3rd press release, ACLU Director McCormick said, "The outpouring of support from across the country has been heartening. Transportation for voters seems covered, but we are not finished in fighting all the barriers— as voter suppression efforts take on many forms across the state."
Rachel Maddow, host of The Rachel Maddow Show on MSNBC, followed this story closely for a few weeks. On October 31st, Maddow sent a news crew to Dodge City to check out the situation.
The news crew found the claims that the Civic Center was unusable due to "heavy construction" was false.
And Dorothy thought Oz was confusing.