Representations of Rape: John Jay Shiva Exhibit Sends Shivers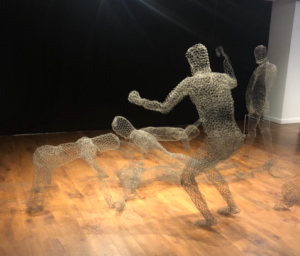 Nakiah Williams
October 18, 2018
"Rape has been with women since the beginning of time," said artist and feminist, Martha Wilson, after watching Yoko Ono's film, Rape (or Chase).
Ono's piece was one of many mediums exploring rape through the female gaze at the Anya and Andrew Shiva Art Gallery reception last month on Wednesday, September 12.  The ground floor of the John Jay College building on 11th Avenue and 59th street houses the gallery's exhibit, THE UN-HEROIC ACT: Representations of Rape in Contemporary Women's Art in the U.S.
"That's the bad news," Wilson said while asserting that although the conversation is re-occurring due to the #Metoo movement and public discussion, the topic of rape is actually very taboo. "As a child, you don't talk to your mother or grandmother.  The world becomes a dangerous place."
Moved by Ono's Rape (or Chase) visual representation of rape, that shows how rape victims are "not in control of their own autonomy", Wilson reflects on a friend that had been raped six times by the same person.
"She understood what was happening and she talked to the rapist.  She's little. She's cute. She's an artist. She thinks she can handle it.  She did a performance called 'Rape Is' in 1977," Wilson said. Her friend placed someone in the audience as a plant to say, "Oh, you loved it.  Why did you wear that dress?" The narrative of The Un-Heroic Act says otherwise.
The exhibition, curated by Monika Fibijanska, opened five days after President Karol V. Mason sent a mass email to the John Jay College community.  A developing investigation into allegations of inappropriate conduct by faculty was addressed as an update on an important matter.
"Upon receiving complaints alleging inappropriate conduct by certain faculty members, we launched an investigation into the matter and have engaged an outside investigator to assist us," wrote Mason.  "We are committed to a swift, thorough, and fair investigation, which is ongoing."
Although the timing of the exhibit came as a mere coincidence, it was effective in reaffirming the commitments of the John Jay College community.
"This exhibit has the full support of the administration and student body," said Bill Pangburn, Shiva Gallery director, and John Jay College adjunct professor.  "I think with this exhibit we are on the right side of history. If it's true then what they're doing is unacceptable. Society can't accept this anymore. It's a society problem.  Men need to change."
Even people outside of the John Jay Community had an idea on what such a controversial exhibit could mean for the campus.
"I think having this show here at John Jay College is very meaningful because art as social justice can be apart of the learning experience here when learning about criminal justice," said Christen Clifford, artist and art professor at The New School.
According to Clifford, students should look at the exhibit from a multitude of perspectives, asserting that the exhibit dared to show the reality of rape through a female vision.
Clifford, who will be leading a symposium of rape and art in 2019 for the Feminist Art Project National Art Panels as part of the College Art Association Conference, actually knew about the exhibit well before it was put into fruition.
In college, she became familiarized with a featured artist after being raped at 15 and abused in a relationship in her 20's.
"Seeing the work of Ana Mendieta made me feel not alone," Clifford said. The work of Ana Mendieta on display at the exhibit involved a suite of five nude color photographs.  Highly affected by a rape that happened to a student on the University of Iowa campus, Mendieta proceeded to strip naked, douse herself in blood, tie her hands to a table, lay her body across and invite strangers in as a performative re-enactment.
An artist who had not experienced rape firsthand was able to capture the essence of the act in a way that rape victims could connect with: "We don't have to be raped to do work about rape.  Rape affects the whole society," Clifford said. "The title, [The Un-Heroic Act], comes from a book by Susan Brown Miller. When she was asked 'why have you written on rape. Have you been raped?' She hadn't."
Roya Amigh, moved by someone else's experience with rape, sought out to capture its essence using a different artistic medium. Amigh's work is comprised of thread, paper, pieces of cloth, lace, and so many layers of conceptual design.
"This piece is about one of my really close people," said Amigh as she looked at her piece in the exhibit.  "It was hard to make work for several months. I was really heavy and dark."
Amigh explains that her first piece was a reflection of her initial feeling about her friend's experience.  The Coerced Contact, which is on display at the exhibit, was actually her second piece. "I didn't want it to be just about the rape. I wanted it to be more about healing," Amigh passionately said.
Amigh created a large number of tiny drawings by gluing thread into paper.  She intertwined lace into the paper then tore, stabbed, and ripped all in an effort to recreate The Un-Heroic Act.  Amigh asserts that the work put into creating her piece is parallel to the body of a rape victim.  It may never be restored to what it was before, but it can heal.
According to the Shiva Gallery website, Fibijanska's research shows that "rape constitutes one of the central themes in women's art, and the aim of the exhibition is to analyze its rich iconography in all mediums: drawing, painting, sculpture, and installation, photography, video, film, new media, performance, and social practice."  The new exhibit seemingly brings a fresh perspective that has actually been embedded in art culture for a long time.