The Changing Tide – Why Voting Turnout Rates are the Highest Ever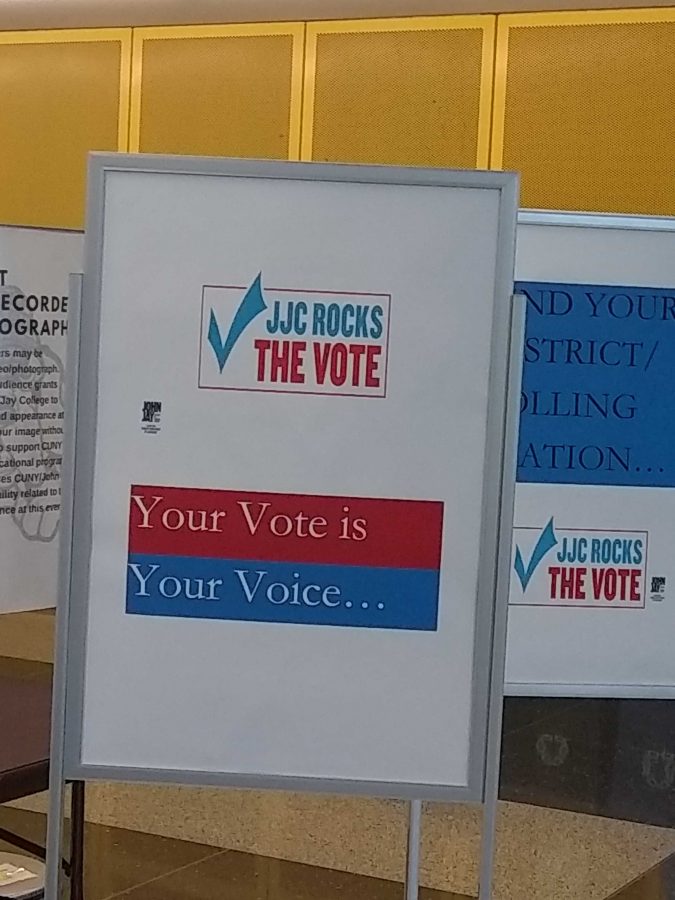 R.J. Calamito
September 25, 2018
With the 2018 congressional midterm elections rapidly approaching, more people are voicing their political opinions than ever before.
One consequence of that is the rise of Justice Democrat candidates. A notable example being Alexandria Ocasio-Cortez beating out Joe Crowley in the NY-14 Democratic Primary.
John Jay, a school heavily involved in politics, has approximately ⅓ of their graduates working in either crafting public policy or in law offices across the city. Beyond that statistic is the tagline of the school— "Fierce Advocates for Justice."
The Club Involvement Fair, took place this past September 13th and 14th and placed a fiscal incentive to the clubs—the clubs who register the most people to vote get an extra one-hundred dollars.
Students across John Jay are pleased with the change.
Rubi Banner, a sophomore majoring in Forensic Psychology, has expressed that there is a gap between the older generations and the current, how elderly rely on young people to vote.
"Older generations say we're the future so I think it's important to be active in changing our future," she said. "I think it's a step in the right direction when you see people walking around helping students register to vote since many people weren't registered from what I saw in the past."
Even students who don't have voting rights are pleased.
"Despite my inability to vote, it's important because one vote could make the tiniest difference," said John Ilawan, a junior representative for Student Council.
It's not just John Jay, either. The entire CUNY System has placed a larger emphasis on voting to the point where many initiatives such as CUNY Citizenship Now!, have been put into place to encourage students without the right to vote to gain that right, first by easing citizenship applications, then by making voting a much more accessible option.
A link to the NYS registration page is one of the first things on students' CUNYfirst accounts after all.
It's evident that CUNY wants to aid students in developing their political voice, both inside the classroom and out, demonstrated by the CUNY Model Citizen Program.
However, that still doesn't get everyone to the polling stations. Just because someone is registered doesn't obligate them to actually vote.
What will most likely increase the number of ballots cast is a general discontent with the current president, Donald Trump, and his administration. Both liberals and conservatives have agreed that empty promises have been made and not kept.
"Considering that our current president is not one to 'turn the other cheek' easily, it's up to us as the constituents, to facilitate change in our political system," said a representative for Max Rose, the Democratic Party candidate running for NY-11.
Generation Citizen, an organization designed to "facilitate democratic involvement" places motivated college students, known as "Democracy Coaches" with high school civics classes.
"The idea was to increase knowledge of how our democracy works," said DeNorah Getachew, founder of Generation Citizen and John Jay alumna. "When you reach a certain age, you can sit for driving lessons, but there's no class to teach kids how to vote and be an effective participant in the political process and that's why I started Generation Citizen."
Politics is a controversial subject, but one thing is evident— people want their voice heard. Now— more so than ever before— they're willing to do anything to achieve it.
If you need one more piece of evidence to be convinced— Out of the 27 Amendments to the United States Constitution, 6 of them, almost ¼, have either a direct or indirect connection to voting—5th, 13th, 14th, 15th, 17th, 19th.