Daily Debauchery at Church Ave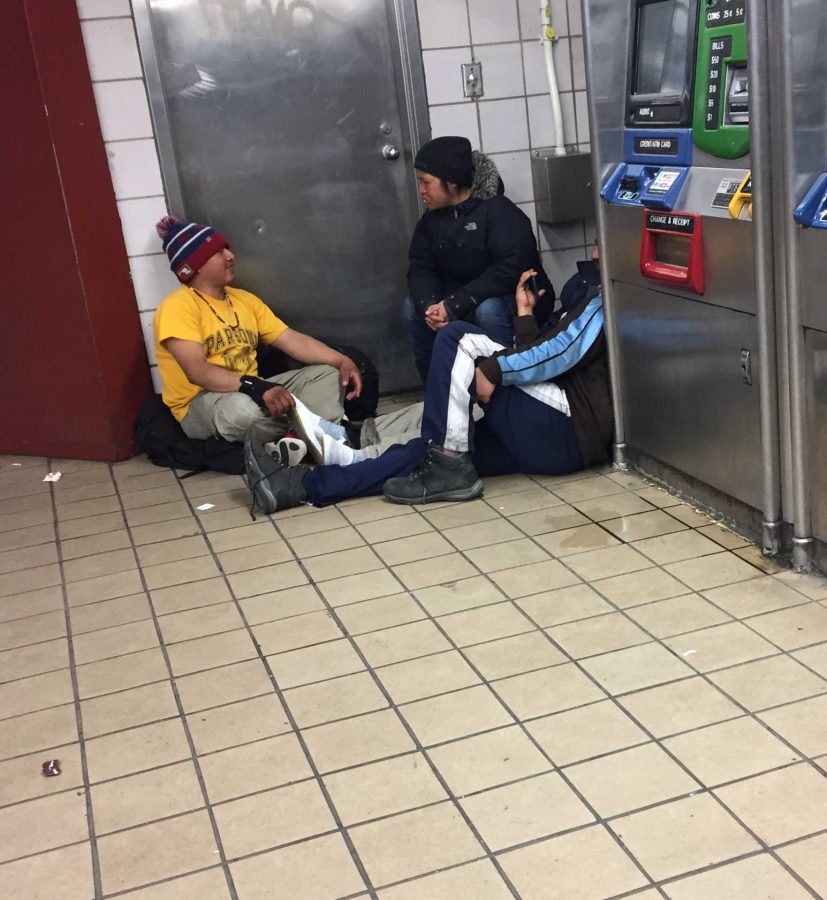 Nanci Avalos Omaña
July 6, 2018
Morning coffee with a side of catcalls has become a normal part of the everyday commute in Brooklyn's Church Ave B and Q train station.
Four men. Two women. A group of six people who get drunk every day have made a particular corner in the train station, right next to the MetroCard vending machines, their home.
"Ey mami!," is one of the many things that is constantly yelled at women who are both trying to get to work or school in the morning and trying to get home at the end of the day.
"I remember one time, one of the drunk guys tried to grab my arm when I was buying a MetroCard," said Heidi Abundis, a 20-year-old who lives in the neighborhood.
For Abundis, the grabbing and the cat-calling have become a normal everyday thing. In fact, she actually had to move some things around in her own schedule in order to avoid having to put up with it.
"I used to work the closing shift at a pet grooming place in the city but the drunks' cat-calling always made me feel more unsafe at night so I just asked to be switched to the morning shift," Abundis said.
Abundis' uncle, Juan Abundis, owns a deli six blocks away from the train station. Although it's not close by, the drunk people, especially the men, still pass by it looking for alcohol.
"They think because I'm Hispanic like them I'm gonna be their friend and give them alcohol, that's why they come here," Juan Abundis said.
Juan Abundis doesn't sell liquor in his store but is always pushed by his friends to do so. He's ultimately undecided when it comes to getting a liquor license.
"I'm always thinking about getting a liquor license but when I remember those homeless drunks who come in often I'm glad I don't have one," he said.
Unlike Abundis, 42-year-old Angelica Campos has a different idea of the drunk guys. Campos has managed to, according to her, "control them" after a long time of interacting with them on a daily basis.
"I know one of them so the way I see it is if I can control one then I can control all because they're all friends," Campos said.
Campos met the drunk guy whose name is David when he decided to follow her one day from the train station to her home. He never made it that far, however, because Campos confronted him and threatened to call the cops. When she did so, David pulled out a Christmas card.
"He handed me the Christmas card and said 'Happy Valentine's Day beautiful'," Campos said. "From then I just started talking to him and he listens to me."
Not everyone's experiences with the drunks have been as good as Campos'. There are still people who continue to have a negative opinion about them.
Jeremias Diyarza, 33, does not live in the neighborhood but attends a church that is five blocks away from the train station, so he frequents Church Ave.
"I've seen those guys passed out drunk sleeping in their own urine with their pants unzipped like c'mon there's a school not too far from here," Diyarza said. "That's not something a kid should see."
What can be done to resolve the problem?
According to Officer Pierre who is stationed at the Church Ave train station at night, it's ultimately up to the MTA to do something about it.
"The MTA has to press charges for trespassing, but they're not going to do that because it's a public service," he said.
When the police are called, the only thing they can do is kick them out of the train station and move them along.
"We're called every single day about the same thing, but unless they're assaulting someone we can't arrest them," Officer Pierre said.
Officer Pierre also revealed that although many believe the drunk people are homeless they may also not be because when they do have to get arrested their addresses show up.
He said, "Not homeless, but surely in need of help."