Excelsior Scholarship: Who's It For?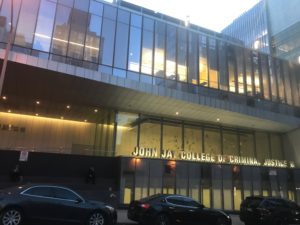 Hang on for a minute...we're trying to find some more stories you might like.
This past spring, Governor Andrew Cuomo announced the Excelsior Scholarship to help alleviate the cost of tuition for CUNY and SUNY students.
Eligibility requirements for this program include an annual household income below $125,000 as well as a commitment to complete an accredited degree within a two to four-year span.
This current semester includes the first group of students who have been awarded the Excelsior Scholarship. With 940,000 families set to benefit from Excelsior, some students have applied, but misunderstood the criteria used for acceptance while some are faced with the reality that after everything, they may not qualify.
Of the total enrollment of 14,000 students in John Jay, 66% of the population received need based financial aid. Not included in that percentage are those who are in need of financial aid but do not receive it.
One student named Josh Spangler, a senior Forensic Science major, expressed concern over the status of his rejection.
"They said 75% of people are eligible so I thought, 'my family isn't rich I should definitely get it,' but no," Spangler said.
Spangler also indicated that until recently, he did not know that students who took a year off in between high school and college were not eligible for Excelsior.
Only a portion of the information regarding who is qualified for the scholarship is listed on the website.
This list includes a maximum annual household income, a minimum number of credits one must take, and a post graduation commitment to stay in New York and work for New York state. However, other qualifications one must meet are not as easy to find. This causes confusion amongst students who are trying to find out whether they may, or may not qualify for the scholarship.
Veronika Podoprigora, a Law and Society major currently in her last year at John Jay, had a different experience from her peer Spangler.
Veronika did not apply for the Excelsior program, however similarly to Spangler, she did not know all of the qualifications required for application. Regarding the criteria that satisfies qualification, Podoprigora stated that she was not sure.
"I thought that it was maybe a part of or determined by the financial aid application."
Podoprigora could have benefitted from the scholarship, but her uncertainty regarding what was needed could have been a determining factor in why she ultimately did not apply for the opportunity.
Recently, the president of SUNY Broome Community College, Kevin Drumm, discussed financial aid figures regarding incoming freshman applicants stating that, "35 percent would be eligible for the Excelsior Scholarship based on its income requirements."
However, he continued to say that after considering other factors, "…only about one-tenth of those students would receive an award."
The shocking reality of how many students actually obtain the scholarship is highlighted by the decrease in SUNY Broome's research.
Excelsior was initially labeled as a program to provide that would ultimately send students to college tuition-free. Now, the numbers regarding the population of students that actually attend college tuition free reveal a different picture.
In a meeting with the CUNY Board of Trustees it was stated that, "Fifty-seven percent of CUNY students currently attend tuition-free."
The Board indicated that Excelsior will increase that number, "up to 60 percent of students." Based on these purported statistics, Excelsior only increases the tuition free population of 3% or more.
As he prepares for his final year, senior Economics Major, Ivan Yeung, discussed his uncertainty over the eligibility requirements for the scholarship.
He stated that, "Upon graduation you have to be employed by the NYC for as long as you were a scholarship recipient."
This was one of the reasons he neglected to apply for the scholarship opportunity. Although he may have been eligible, based on some of the previous numbers as Drumm mentioned, the number of recipients is far lower than the numbers reported to be affected by the initiative.
Reportedly it is unknown exactly how many students receive the scholarship. It is also unknown how many John Jay students who qualified for Excelsior, actually received it.
The office of Financial Aid could not be reached to comment on either of these numbers. The initial cohort of recipients might not reach the number as projected.
Spangler stated, "I thought this year I would get some help for tuition, but I guess not."