How Bloodhound Vets Are Faring at School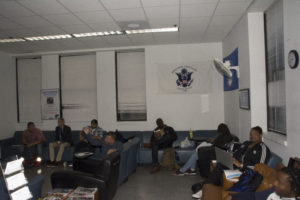 John Jay Veterans stand strong as they continue to face obstacles after completing their service.
John Jay has one of the largest student veteran populations in the CUNY system. You can find many Bloodhound veterans relaxing in the Veteran's Lounge in Harren Hall cracking jokes, and enjoying each other's company. Unfortunately, it's not all fun and games. Many of our vets are still dealing with very serious issues.
"You have both a drug epidemic amongst veterans, in the broad sense of society, and you also have mental health issues amongst veterans, and really just a stigma attached to the VA which is preventing a lot of veterans who need help, from seeking help," said Jonathan Gonzalez, a USMC veteran and John Jay student.
Sadly, his statements ring true. According to a 2016 VA analysis, an average of twenty veterans commit suicide each day. Since 2007, over 680,000 calls have been made to the VA's Veterans Crisis Hotline.
According to the VA's website they have, "…expanded access, with longer clinic hours, telemental health capability to deliver services, and standards that mandate rapid access to mental health services."
Some are worried that VA doctors may be over-prescribing drugs to veterans.
"[The VA] also tends to over prescribe antidepressants in order to treat PTSD, which only means that the soldier not only has PTSD, but also has his brain full of chemicals it doesn't need," said Michael Lee, a John Jay alumni and Army veteran.
"The quality for care at VA hospitals is hit or miss across the country. Some are great, some are awful. All have long wait times because that's what happens when healthcare is mostly free."
Mr. Gonzalez also feels that there's a disconnect between governmental institutions that provide resources, and the veterans that need them.
"A lot of local governments out there that provide a lot of resources – the state also provides a lot of resources to veterans too, however it's not getting disseminated very well and a lot of veterans are just not aware of everything that is available to them," Mr. Gonzalez stated.
Whether it be being placed on a long wait list to receive surgery at a VA hospital, or ensuring that a veteran receives their correct funds from the GI bill, many vets don't trust the systems that are meant to assist them.
Jesse Silkworth, an Air Force veteran, recently experienced some of the issues veterans go through when receiving their GI Bill. Mr. Silkworth, a student here at John Jay, was supposed to receive funds designated for a full time student, however according to the VA he's enrolled as a halftime student. For many veteran students, this is a very serious issue.
"This would of course be an error on the part of the certifying official," Mr. Silkworth stated.
"The difference [between funds for full-time students v. funds for halftime students] is this isn't the money that goes to the school for tuition, this is the money that allows me to pay my rent, buy my food, afford my car, and enables me to pay the associated costs of commuting to the city. I have zero faith in the system and the people that work it."
The Veteran Certifying Official's role is to communicate with the VA to determine what types of benefits the veterans from John Jay will receive.
This information includes how many veterans are at the school, what classes they're enrolled in, and how many classes they're enrolled in.
"There is a bit of a disconnect between the certifying official, and the veterans here," Mr. Gonzalez said.
"Sometimes there's head-butting between veterans here, and her. Some veterans feel like she needs a little bit of help. Other veterans are very satisfied with her work. Personally, I don't think it would hurt to have a work study veteran to help her with a lot of the paper work."
Latanya Everett, John Jay's Veteran Certifying Official and Military Point of Contact, is responsible for a variety of interactions between John Jay vets, the school, and the VA. You can find her on the 6th floor of the BMW building, except on Wednesdays from 5pm – 7pm when she's visiting the Veterans Lounge.
While she manages communication between the veterans and the VA, Ms. Everett is a John Jay employee. One of her main jobs is to certify 395 out of 451 Bloodhound veterans so they can receive their GI bill benefits.
"Every last single one of these students, I read every last single degree audit, and counted every single credit because everything that they do is tied to their money," Ms. Everett said. "So I need to make sure that if you're taking courses, they're your correct courses."
In regards to bringing on a work study veteran to help her with her work, she is hesitant to allow another student to have access to their classmates' sensitive information.
In the past, Ms. Everett stated that she has had people come into her office to offer her some help, however she feels that that's not necessary.
"The job has been done by myself for five years," Ms. Everett said. "Would I argue about having help? No, but I'm also not going to trust that the information that's seen in this office is going to be retained as private."
Ms. Everett did acknowledge that mistakes are inevitable at times.
"I am human," Mrs. Everett said. "I am bound to make mistakes. Sometimes I read a 6 as an 8, and is that a problem when doing that with someone's social? Yes it is because it can delay a payment. It's something that can be corrected, and is usually corrected very quickly once we know that the error is there."
Even though there are instances where mistakes are made, Ms. Everett feels that the school has equipped her with every possible resource that allows her to conduct her work as efficiently, accurately, and quickly as possible.
Ms. Everett provides orientations to veteran students, and she also replaces the need for veterans to go to Jay Express. While there are occasional incidents where a veteran may come into her office to argue with her, Ms. Everett said she'd be devastated if she had to change jobs, and leave the vets.
"If I had to change jobs, I'd cry. I like this, this gets me up in the morning. This makes me come to work in the morning. I like this, I love it. I wouldn't trade it, and I look forward to the time I get to spend with [the veterans] on a personal level," Ms. Everett said. "They are the reason I love this job."
There are some Bloodhound veterans who may not see eye-to-eye with Ms. Everett, however they all seem to highly appreciate the camaraderie and services provided by the John Jay Veterans Association.
"The Veterans Association is great," Mr. Lee said. "The veterans club goes out of its way to make us aware of different possibilities."
The John Jay Veterans Association holds general meetings twice per month. The next two general meetings are during community hour on October 18th, and November 1st. If you have any questions about the Veterans Association, you can contact them at: [email protected] com.
Ms. Everett's office hours are from 9:30am – 4pm from Monday to Thursday.