Ladies Get in Formation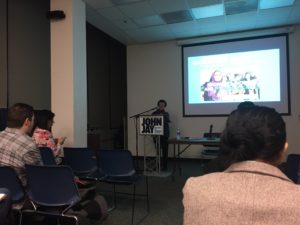 Hang on for a minute...we're trying to find some more stories you might like.
Mary Luke, President of Metro New York Chapter of UN Women, was the guest speaker at an event about Protecting Women's Rights through Advocacy and Movement Building on Tuesday, March 7th.
The Women in the Public Sector (WPS) department hosted the event in room 630T of Haaren Hall. About 30 people, including professors and students, attended the evening event.
The Metro NY Chapter supports the mission of UN Women, which is to promote gender equality and women's empowerment. The Chapter fights those issues through education, advocacy and fundraising to defend women's rights worldwide.
Luke stated, "Our goal is to promote Women's Programs here in New York and in the New York area."
One of the four World Conferences on women, organized by the United Nations took place in Beijing, China in 1995. The conference birthed the Beijing Declaration and the Platform for Action which 189 countries adopted to bring change in women's human rights.
Luke said, "Beijing was the first time we talked about human rights being women's rights and women's rights being human rights."
Luke, with the assistance of one of the organizers, played a documentary "Equal Means Equal" by Kamala Lopez. The video covered the injustices women encountered in the United States of America such as: unequal pay and violence against women.
In the video, Senator Barbara Mikulski stated, "women in the United States of America make only 77 cents for what men doing the same job make."
In the same video, a man named Elliott Rodgers said, "slaughter every single spoiled stuck-up blonde slut." Those statements raised the question on whether there was a war against women in the United States.
Luke asked the audience for their opinions on the documentary. From the audience, two women in particular said that they were "furious and disappointed" as they held the United States in high regard.
The UN Women have a 16-day campaign called "Orange the World" to raise money to end violence against women and girls worldwide.
"During 16 days of activism in November and December around the world, there are all sorts of activities. A lot of the capitals are lit in Orange." Luke said, "and we had our own City Hall lit in orange and everybody focuses for 16 days on the very aspect of how to prevent and how to address the problem."
The Convention on the Elimination of all forms of Discrimination Against Women (CEDAW) was signed by 189 countries in New York City on the 18th of December 1979.
"CEDAW is a UN [United Nations] convention to eliminate all forms of discriminations against women. And again this was an International treaty by law at the UN in 1979." Luke said. "And it was actually approved by President Carter in 1980. It was approved in every single country except for 7 countries: Iran, Palau, Somalia, Sudan, Tonga, and the United States of America."
Audience members collectively said "ohhh" in shock as the United States appeared in that list. To which Luke responded with "shameful, right?"
Mary Luke has over 35 years of experience as she worked in leadership positions for women's rights programs and reproductive health. She worked for the rights of women in over 30 countries around the world.
When asked about her biggest challenges, Luke said "one of the biggest challenges I think is to find the right people. We are foreigners and we have to understand culture and accept it." Luke said that her organizations try to hire local workers to work instead of foreigners, like many international organizations do. Luke stated that her favorite part about her work is to meet new people and to learn about their culture.
One audience member, Dolapo Oyeneye, asked a question about Luke's organization's work to fight Boko Haram in Nigeria. Boko Haram captured many female children in Nigeria.
Luke responded by saying the UN is approaching the situation with care. They put pressure on the Nigerian government to take action while verbally denouncing the actions of Boko Haram.
Oyeneye said, "I'm from Nigeria and I wanted to know what these types of organizations are doing to help the women and children kidnapped by Boko Haram." Oyeneye, a senior majoring in Public Administration said that she was satisfied with Luke's answer.
Another audience member, Qingzhen Meng, a Forensic Science Professor, visited from Beijing, China. He said that he found out about this event on the John Jay calendar. "I did not know much about this event but I learned a lot today [about women in America].", Meng said.
Nicole Elias and Maria D'Agostino established the Women in the Public Sector in 2013 to help women in public service within and beyond John Jay.
One of the organizers, Zoë Adel, a Graduate assistant for WPS, said that the International Women's Day was approaching so they invited Luke and her organization to John Jay.
"I'm very satisfied with the outcome of the event and people seem to be happy," Adel said.