New York's Boldest: Corrections Officers Take to the Gridiron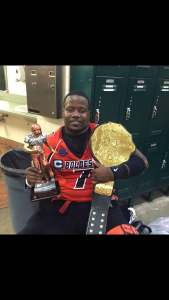 For a correction officer, the ideal size and demeanor is big, physical and nasty. That is also needed for the select few who play football for the Department of Corrections (D.O.C.).
The deparment defeated their league rivals, NYPD's Finest, for the first time in 2015. They traveled to California to win their first championship in the National Public Safety Football League (NPSFL).
The D.O.C.'s football team, also known as New York's Boldest, began their play in 1996 and temporarily disbanded in 2004 for lack of production and players taking advantage of privileges.
In 2010 the D.O.C. tried to spark some interest amongst potential players. Team founder, Chris Harris, hung up flyers around Rikers Island to see if he could get the attention of would-be players. Many officers were interested.
Harris then teamed up with current Team President Christopher Chamberlain and Captain Brian O'Hara, who was on the original team, to bring back the Boldest football team to compete for a championship in the NPSFL.
Over 50 teams compete in the NPSFL. Teams from all over the country like Orlando, San Diego, and Chicago compete in the league. As long as you're a member of public safety you are eligible to join your respective city's football team.
The team adopted a new identity as they reemerged in 2011.
New Head Coach Brian Ballantine was looking forward to the challenge. "I've been coaching for 40 years," said Ballantine, 65. "Anything less than a championship is a complete failure."
One of the many who joined was quarterback Reggie Rothwell. Rothwell is a former collegiate athlete and quarterback for Delaware State University for four years and has been an officer since 2005.
"I had no idea that we ever had a football team in the past," said Rothwell, a 34-year-old, from Brooklyn. "Once we all started to put this thing together I heard there used to be a team but the coaches told us that they stunk and took advantage of their privileges."
The coaching staff wanted to recruit not only good players but also good men who were leaders. Rothwell fit that role along with another player, defensive end/ offensive lineman, Chad Ellis.
Ellis also played football at Delaware St. "Being a leader isn't hard with the kind of work I do," said Ellis, 34. "You have to be held accountable for everything you do as an officer."
With the pair leading the way, it looked as if the Boldest were ready to revive their football organization for the start of the 2011 season.
The only problem was the team, once again, underperformed. From 2011-2014 the best the team would finish was with a .500 record. With those numbers the team never qualified for the playoffs.
Then came the 2015 season. This is when things changed. In this seven game schedule the team started 3-0. Their next opponent was NYPD's Finest.
Since 1996, the Boldest never beat the Finest.The Boldest knew what was at stake. Beat the Finest and there was a good chance they would play for the championship.
On Saturday May 8th, 2015, at Aviator Field in Brooklyn, N.Y., the Boldest and the Finest squared off for a chance to have an edge in getting to California for the championship shot. This game was a fight. There were punches thrown, bodies slammed, blood, sweat, and tears shed. On a warm spring night, under the lights, with a sea of spectators watching, the Boldest defeated the Finest 12-9 to improve to 4-0 and put themselves in the driver's seat for their first championship appearance in their history.
After years of losing they'd finally defeated their rivals.
Although the team lost their next game in Ohio to the Columbus Marauders they would go on to win their next two games. Those victories clinched them a spot in the 2015 NPSFL Championship Game against the Orange County Lawmen.
On June 18th 2015 New York's Boldest annihilated the Lawmen 59-6 winning their first ever championship. Only four years removed from starting this journey this team was spraying champagne while hugging and giving high fives.
All members of the team received championship rings, a trophy, and a night out at Antun's Catering Hall in Queens. Everything was paid for by the department.
This year the team will look to win another championship. They lost their leader in Ellis who decided to retire from the team to be a family man and to avoid an injury. Injuries are one of the reasons why some officers including Correction Officer Jahmel Spikes has decided not play.
"I've played sports all my life," said the muscular Spikes. "But I'm 30 plus now, I can't afford to break something and then not be able to provide for my wife and son."
Unbeknownst to the officer, if a player gets injured on the field they will still receive full pay. "I still don't care," said Spikes once informed of this fact. "My wife would kill me if I tried to play."