Club Row Enforces General Use Rules
John Jay's famous 'club row'— a series of rooms designated to individual clubs— is enforcing the rule of not allowing students to be in club spaces without the presence of an executive member. 
Students can't access rooms to the clubs in which they belong at any random time during the day.
The Center for Student Involvement and Leadership (CSIL) on L.2. of the New Building informally became 'hang out spaces' for members of all clubs with rooms in that hallway. Executives must swipe their ID cards on the door locks and supervise member access.
"Even before I was an executive I loved how easy it was for me to be able to access the club room whenever," said Reihan Ahmed, Treasurer of the Students for Justice in Palestine (SJP) club.
At the beginning of the Fall 2019 semester, club executives informed their members that club rooms would not be open for general use except for Community Hour. According to the John Jay policy, the club rooms were originally designated as executive spaces for organizers of the club only.
The policy states that club rooms, formally known as club offices were assigned to executive members of each club so that they may use the space to plan events and club activities.                
"A club member isn't just someone who attends events or lectures," Ahmed said. "Coming into the club rooms allows them to establish connections freely, make new friends, and meet new people who share the same interest."  
Most clubs hold general meetings and events organized on a larger scale a few times during the semester. Being available to all members of the club meant the spaces in the CSIL hall were social hubs where students with similar interests could interact.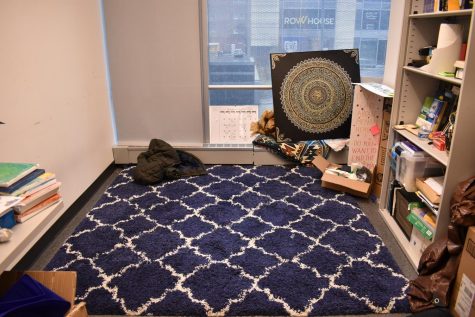 The Muslim Student Association (MSA) room is one of the most affected. John Jay's Muslim community juggles five ritual prayers a day alongside classes. Most members have resorted to praying in the North Hall building's new meditation room because Islamic prayer times vary, and the room is not always open.
North Hall now has two meditation spaces open for prayer to students of all faiths. These rooms also provide a quiet place for students just looking to take a break and spend some time away from the hustle and bustle of campus life, either meditating or finding peace.
The policy is seen as unfair or questionable for some students who do not feel comfortable using other shared spaces in the school, like the library or the cafeteria. Students prefer the quieter, 'birds of a feather flock together' feel of club row.
"I feel like [club rooms] should always be open to members. Sometimes other spaces in the school like the library aren't comfortable. Club row is a more intimate space," said Ashley Juarez, a sophomore majoring in International Criminal Justice. 
Nikki Gupton, a Center for Student Involvement and Leadership specialist insists the policy is not being enforced now for any particular reason.
"It's one of those rules that have just gotten lax over time. It's just a liability issue more than anything else. What if something were to be taken, you know?" she said.
Gupton also explained that most of the rooms in club row were shared spaces between different clubs.
"I might know you from one club, but the other person from another club doesn't know you," Gupton explains.
She continued to assure that club row is not just for clubs. There are also various programs including Diversity Discussions, Luncheon Learns, and debates on Social Justice and Professional Development.
"I would like to see more students involved with our office even if they're not a part of a club," Gupton said.