Through Dance and Music: Immigrant Stories at John Jay
Attendees had gathered in John Jay's Gerald Lynch Theater for the premiere of Immigration Stories, a series of theatrical dance pieces presenting 11 true narratives of immigrating to the United States. 
Each piece began with the theater blacked out, and a quote from each interviewee was presented on an overhead screen. The recording of the interview played right as the lights lit the stage and revealed the dancers. The dances themselves were a blend of different techniques, some movements a literal representation of the words being said, some not.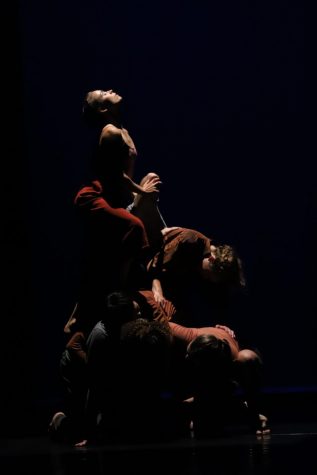 "It's not ballet, it's not Hip-Hop," Emily Petry, a fellow dancer said. "Her [Meade's] choreography expands itself and it shows how diverse the world is." 
The idea for Immigration Stories came from a moment of realization for Meade, who describes the process her husband [Jérémy Galuret, a French immigrant] underwent to gain citizenship as frustrating. She recounted waiting for "hours on the phone" with U.S. Citizenship and Immigration Services (USCIS). The procedure had taken long enough that Galuret had been fired from his job, due to his pending status at the time.
"Even when you've done everything right you're still punished," Meade said, referring to the fact that though Galuret provided all necessary documentation in a timely manner, USCIS still took too long. 
"This isn't a singular experience," Meade said, an indication of what she's learned not only from her husband's experience but from the dancers in her collective as well.
This team of dancers, some immigrants themselves who performed their own stories, have been with the Mari Meade Dance Collective for years. Most of them live with each other and she explained that the relationship that she's built with them had a direct influence on how she crafted each routine.
"I know them, I push them to open up, and I try to utilize their individual strengths," Meade said. 
Though she created each piece, she emphasized the project as a collaboration of personalities, discussing body movement with each dancer and choosing the best way to physically depict each story. The aim of the collective is to create "deeper, more poignant work" so people do more than watch the performances, but engage with them too.

"Her goal is to get a tactile response from the audience. Whether it's laughing or crying or leaning over or hiding," Roza Savelyeva, another MMDC dancer, said. 
Meade's husband's narrative elicited laughter.
"Corsican people, they are very tough," Galuret's voice rang throughout the theatre.
Three dancers – depicting Galuret, his mother, and father – stood close in line on stage. The spotlight was on them. They squared their shoulders, jutted their chin, clenched their hands into fists, and planted their feet shoulder-width apart.
"Fun," Galuret said. The dancer's posture relaxed, they smiled. The audience chuckled.
"Tough… almost rough," Galuret reiterated. The dancer's posture straightened to their previous position, they jerked their chins up in synchronization to the crowd, to feign a threat. The audience laughed.
The performance ended with the two dancers on stage. A representation of Galuret and Meade at the end of their interview.
Each piece, Meade explained, was catered to the feeling evoked from each story being told. To establish a sense of intimacy between the dancers, narratives, and the audience. She hopes to expand this project and reach more immigrants willing to share their stories.
"There's more to empathize with than what you see," Meade said.