Honorable Congresswoman Alexandria Ocasio-Cortez Visits John Jay
John Jay College welcomed Congresswoman Alexandria Ocasio-Cortez for a sit-down conversation on Thursday, April 18th to discuss her journey as a young politician and what it takes to be where she is today.
The event was hosted by the Political Science Department and the Office of External Affairs in collaboration with Student Council. It was a full house as John Jay faculty, students and guests filled the Gerald W. Lynch Theater's 595 seats, with late-comers lining up outside.
Student Body President Jasmine Awad took to the stage to express her gratitude to John Jay for organizing the event which allows students to learn "outside of the classrooms from different people who are fighting for different forms of Justice."
Before giving her a warm welcome to the stage, Awad also took the time to acknowledge the efforts made by Political Science Professor Dr. Susan Kang, for this event to be possible.   
Dr. Kang revealed that she met Ocasio-Cortez in 2017 while working as a volunteer for the Democratic Socialists of America. Dr. Kang decided to endorse her in the Democratic Party's primary election for New York's 14th district when she realized they shared values. When fellow Political Science Professor Dr. Brian Arbour suggested inviting the Congresswoman to John Jay, she did not think twice about it and immediately reached out to make it happen.
Dr. Kang brought the Congresswoman out to the stage to a standing ovation as some members of the audience chanted her famously shortened name, "AOC".
Ocasio-Cortez, after stating that "It feels good to be home," engaged in a 20-minute monologue in which she declared, as an advocate for change in the United States of America, that it is events like this that represent the first steps in the right direction.  
While she recognizes that some of her political opponents may feel like her policies are trying to change the country into a "radical new direction", Ocasio-Cortez believes in restoring the values of this country.
"I feel like we are just trying to come back home, to reassert and renew the values of justice, freedom, liberty, human dignity, humanity and looking after one another," Ocasio-Cortez said. "In this moment, I think it is no secret that we have strayed from those values as a government, an administration, sometimes as a culture."
The Congresswoman then took the time to revisit the story of her journey in politics. Just between March and April of this year, she has graced the Time Magazine cover for being the second-most-talked-about politician in the US and made the Time's 100 most influential people list.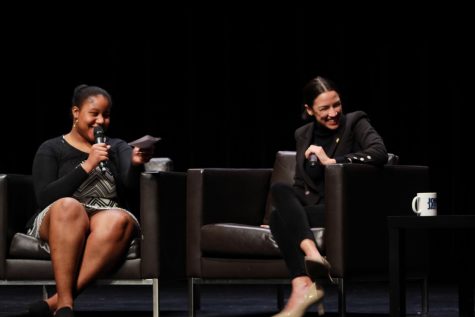 Over a year ago, she was a bartender in Union Square, who tried to be involved in her community. Ocasio-Cortez described her journey as being surreal.
"It's hard to believe but it's how I feel – like I don't belong here," the Congresswoman said about her recent achievements making her feel like she has imposter syndrome.
"This magazine is fake. I don't know why these people are following me around. I'm not that important," she said as the audience laughed.
Ocasio-Cortez described her first canvas as an inexperienced politician. She stated that she had no idea what she was doing at times and had to change her mentality in the process.
"The way that I felt we had to do things was to make sure you knew all the steps in advance –  like what you are gonna do, how you are gonna do it, how you are going to pay for it," Ocasio-Cortez said. "If you don't know every single step before you start, then don't start. That was my kind of model of how I was taught to do things."
For the first six months of the campaign, Ocasio-Cortez said that she was canvassing with a Trader Joe's bag, which made the audience laugh. She then upgraded to a shopping cart which she called "a little carrito" and eventually got to renting a car to travel between The Bronx and Queens.
"No one sees what that dirty work looks like," she said of her early struggles, quoting Beyonce from her Netflix Documentary. "No one sees what the sacrifice looks like."
The Congresswoman urged the students to get involved and not be afraid of making mistakes, as correcting them along the way, is what evolution is about.
During the Q&A portion of the event, Ocasio-Cortez, joined by Dr. Kang, Professor Arbour, and a student took a seat on stage and answered a few questions sent in by a few John Jay students.
When asked about what inspired her to run for Congress, Ocasio-Cortez declared that, while organizing for Senator Bernie Sanders during the Democratic Primaries of 2016, she realized that Congress and the Senate were "jacked up."
"We could elect the best person in the world to the Presidency but if your two other Bodies are compromised– whether they are Republican or whether you [The Democrats] are just controlled by corporate interest, you are not going to get anything done."
In response to a question about what women and young girls can do to prepare themselves and be successful in male-dominated career fields like Congress, Ocasio-Cortez emphasized the importance of having diversity.
"It is important to have Hijabi women, transwomen, people of color, Immigrants because when you have that diversity, then you are able to empower perspectives that traditionally have not been empowered."
She shared the advice that Ruth Messinger, the 1997 Democratic nominee for NYC Mayor, gave her when she decided to challenge Joseph Crowley.
Like Messinger told her over a year ago, Ocasio-Cortez urged the women in the audience to "grow a rhinoceros skin to ascend into a male-dominated space."
"Grow that thick armor without losing your humanity because you want to be tough and tender at the same time," the Congresswoman said. "If you lose your tenderness, then you lose everything that makes you special. You lose your tenderness, your empathy, your compassion, and a lot of the assets that make being a woman or a pure person valuable."
On the issue of student loan debt, the 29-year-old Congresswoman admitted to still paying back her debt 10 years after her college graduation. She revealed that federal student loan forgiveness was possible two years ago.
"For the cost of the GOP Tax Cut that was passed in 2017, we could have forgiven every single student loan," she said. "The question is not about possibility, it is a question about priority."
Ocasio-Cortez treats loan forgiveness as a government investment that would yield returns as it would allow graduates to start families and businesses without financial issues.
"Recognize your own power and use it," she said urging students to get involved in their communities.