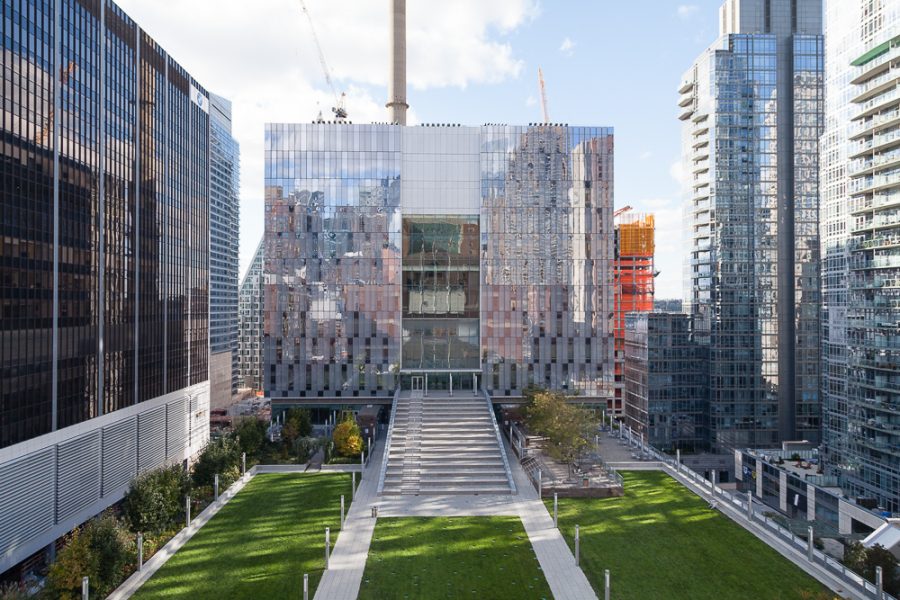 Wikimedia Commons
March 11, 2021 marks a year of online learning for John Jay College students.
After an entire year of online learning during the COVID-19 pandemic, May '21 graduates will be the third class to graduate online, following May and Fall of 2020.
"I feel like I'm not going to get proper closure from John Jay," said Hadeer Abdelaal. "It feels weird that my graduating class isn't going to have a graduation, senior events, or even take our senior pictures in school."
Some seniors feel that there is no need for online graduation. Virtual commencement from last May has featured senior pictures and their names listed in alphabetical order.
"There's really no point in any of it," said Goksu Ackan, another John Jay senior graduating this May. "It's not going to be the same watching my name go across a screen."
Not being able to come to campus presents many challenges for the seniors of John Jay. Not only are they unable to participate in social events that are normally directed toward them, but they are also unable to access some resources as easily.
Online advisement or meetings with departments are more difficult to schedule due to the volume of students who cannot simply walk in anymore.  
"On-campus involvement was almost effortless but now I can barely access information to dates and events without taking initiative myself to find it," said Roan Alamari, a John Jay 2020 graduate. "Even filing for graduation was nothing like I expected it to be."  
Community hour at John Jay was a very useful time period for those willing to take advantage. Pre COVID-19, there was always an event, information session, or meeting being held during this time. This was especially valuable for seniors who were preparing for grad school and career programs.
Not being able to access these things takes a toll on seniors.
"It's so disheartening to have lost out on my senior experience and I feel like I've lost my sense of direction in terms of post-graduate studies; I don't even know where to begin," said Alamari. 
Off-campus for those still in this process, socially distanced learning comes with its many struggles. Many students who thrive in a live classroom setting are now unable to keep up with the workload and find themselves falling behind.
"It's really tough and although I've been an A student throughout undergrad, with this shift to online learning that streak has been hard to keep," said Lena Gharama, a senior graduating this semester. "There's just so much going on that I don't realize when something has been posted or is due."
Blackboard is how students stay up-to-date on their classes. Professors upload assignments, discussion boards, and make announcements via Blackboard. When taking multiple classes there can be a lot of notifications to keep up with. 
"Sometimes I just sit here and think: when did the professor even upload this?" said Gharama. 
Online learning is not just a challenge for the students. Professors are also dealing with the consequences of having to teach from a distance. They find themselves having to tailor their courses to work asynchronously, as it is nearly impossible to have all the students online at once.
Professors, as well as students, must be dynamic throughout this process as new hurdles present themselves.
"I've adjusted the assignments and expectations not only to the fully online experience but also the pandemic experience," said Professor Marie-Michelle Strah, who teaches an International Criminal Justice course about cybercrime this semester.
"I calibrate my coursework and assignments throughout the semester as well to adjust to our changing environment," she said.
Professor Strah uses Milanote, a website in which her course is organized weekly into boards. Instead of Blackboard's standard lists, there is a main Course Map page where the entire semester is mapped out. Students can add 'cards' to the weekly discussion and comment under their peers' cards to receive participation points. 
Many professors have turned to this method of peer grading and reviews to make sure students are communicating with each other. 
"I personally prefer in-person interactions," said Professor Strah. "Student life is much more than 'just' classroom time, it's about socialization, mentoring, networking, having fun, enjoying the city, peer learning, exposure to different cultures, celebrating milestones and achievements—that is unavailable with online learning." 
No matter how the courses are arranged, it is difficult to compare to in-person learning. The struggle comes when students are less willing to participate on camera or turn on their microphones to speak. This is not necessarily because they do not want to, but because of the limitations THAT they may have in their households.
"I don't have the luxury of locking myself in a quiet room when I live in an apartment with six other people," said Gharama. "Some professors will assume you're not paying attention when that's not it at all."
Seniors find themselves missing out on so much due to the transition to virtual learning.
College graduation is a once-in-a-lifetime experience that COVID-19 has robbed from those graduating this semester.
"I was just excited to be leaving, which is something 2019 junior me wouldn't have ever said," Alamari said about her online graduation experience. "I don't feel like I graduated."