Izat's Cart Serving the John Jay Community 8 Years and Counting
You can call it the "L3 cart" or "coffee cart", but most John Jay students opt out for something a little bit more personal: Izat's cart.
Mobile vending carts are nothing new to New Yorkers. It is easy to find one on every corner, but the cart that is conveniently placed in front of John Jay College's 11th avenue entrance is available to students who want to grab something quickly before class.
Izat Sabeha's cart has a variety of food for breakfast, lunch, and dinner.
"I have been operating this cart for over nineteen years, but I have been working in front of John Jay for eight years—ever since the new building opened up," Izat said.
The 11th Avenue entrance of the new building is close to the offices for Student Council and the Center for Student Involvement and Leadership (CSIL) so, students and staff from both offices get their food and drinks from Izat's cart.
When Izat sees students running from class to class he always wishes them good luck on their exams. 
"Sometimes I just throw in a protein bar or a banana to make sure they eat before their test," Izat said.
When students are busy and they don't come around for their daily coffee or lunch, Izat notices and asks them how everything is going with school. He's up to date with their exams and even friend groups. 
Nikki Gupton, CSIL specialist, has been working in the CSIL office since 2017. She says that she's been going down to Izat's cart since she started working at John Jay, stopping by his cart as soon as she gets to work. When Izat sees her, he already knows what she wants.
"If I change my order due to dietary reasons, I keep him up to date. I'll be like 'no bread today, Izat,'" Gupton said.
Walking through the halls of CSIL, it's easy to spot the signature clear iced coffee cups with the bright red straws sticking out from them. Despite Izat's cart being right in front of Lil Jays, where they offer Starbucks, students continue to opt for Izat's $2 iced coffee. 
Rama Beidak loves running down to get her coffee and have a quick chat with Izat. According to her, Izat is always in a good and inspiring mood.
"We bond over the fact that we're both from Bay Ridge! He even goes to the same pharmacy that my family goes to," she said.
Beidak transferred from New York City College of Technology and said that she was immediately introduced to Izat's different menu options by all her friends who travel in groups to his cart. 
Despite always being in a cheerful mood and trying to be a happy face to students, running the cart isn't as easy as Izat makes it seem. Standing all day is a challenge especially in different weather conditions.
"The light in the cart can be hard to deal with but at the end of the day, alhamdulillah," Izat said. 
"Alhamdulillah" translates to "God bless" or "Thankful for God" in English. 
Izat explains that Sundays are his only days off, but he spends it preparing the cart for the week by going shopping and making sure he stocks up. He wakes up at around 1:30 AM to arrive at 4 AM every day and leaves around 6 PM.
Other complications include seasonal changes. In the summer, bees swarm all over the bread and pastries while in the winter, everything is just really cold.
You can see his cart slightly shaking as he's going from left to right, juggling each customer order and grabbing all that he needs. 
Izat says that the area has been a construction zone over the past eight years, but he was excited to see it turn into a contemporary and lively region with every new opening. It's not just the John Jay students who always come, but it's also the construction workers. 
Throughout the years, everyone has given Izat stickers to stick on the cart. The stickers range from all the buildings around the school and different construction groups.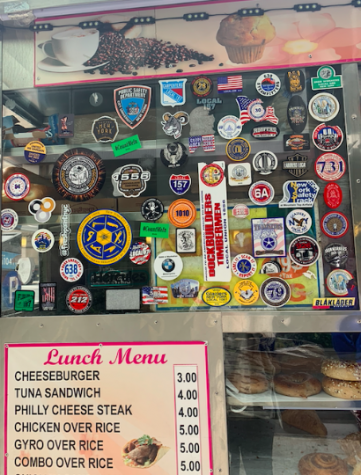 Izat offers a wide variety of tea, gyros, sandwiches, snacks, different coffee creamers, pain relievers, and more. 
"He's your all-in-one type of guy," said Paul Singh, who graduated from John Jay in 2018. "I don't see why I should run to CVS for anything when I can get it from Izat plus I get to talk with him and update him on what I've been up to."  
Singh still gets his coffee from Izat whenever he visits. He explains that he customized his own coffee preference with Izat when he was an undergraduate student at John Jay – the "Paul".
Singh says that the "Paul" is basically a mix of french vanilla and hazelnut creamer. 
Izat's son, Ahmed, sometimes fills in for him whenever he's too tired to work. Even then, Izat won't take the day off, but instead will be resting in his car until he's ready to work. 
Ahmed comes from Baruch college on the days that his dad needs him and then goes back when his classes start for the day. 
Izat mentioned his family is what inspires him and what keeps him going. He works for his kids because he wants them to have everything they need. 
"I am grateful for Ahmed helping me, but I try not to bring him here often because he needs to focus on school," Izat said.
Family and education are principles that he holds dearly.
Izat operates his cart six days a week—Monday to Saturday, from approximately 4 AM to 6 PM. 
Despite the long hours and varying weather conditions, Izat says that he wouldn't change the experience he's gotten for anything.
"There are so many people graduating that I'm going to miss, but they said they will come visit me. It's the people that make this job easier," Izat said. "At the end of the day, I am supporting my family's needs, but I have also made a different family here."