It's a Foodie Fest: Shiva's Gallery "Foodie Fever" Exhibit at John Jay
You and your friends sit down to eat at a trendy cafe, order your brunch and eagerly wait until your server arrives back to the table, juggling plates of piping hot food. The smells overcome you and while you begin to grab your fork, the click of a phone camera stops you mid-reach. How could you forget, the phone eats first?
Not literally, of course. But in modern millennial culture, sharing photos of aesthetic food has become a trendy phenomenon. The Anya and Andrew Shiva Gallery, located at John Jay College, dedicated the first exhibit of the school year "Foodie Fever" to the social media trend. The exhibit features pieces with various commentaries as well as addressing some of the issues that arise from the craze.
The art exhibit featured sixteen different artists, including the work of Mia Brownell, Robert Zoot and Judy Haberl. Each of their pieces has a different style.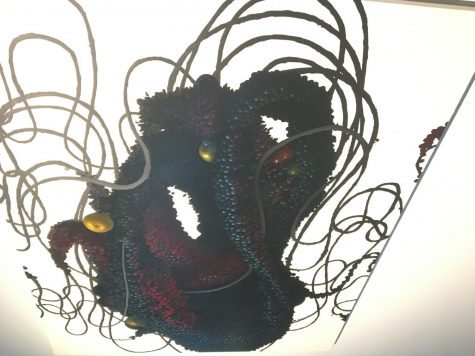 Brownell focuses on the growth and beauty of fruit, while Zoot has photos of food family "Fries, Burger, and Soda" and their grave plots. Haberl takes a political approach of using gemstones in the shapes of sausage to represent food being a commodity. 
 Millennials, the generation born between 1981 and 1996, have a major influence over what's trending in the consumer market. Growing up during the social media rise and in the era of smartphones, millennials are walking marketing tools for what they wear, eat and consume in their day to day lives.
"I want people to know what I'm eating if it's good, and where they can get this," John Jay freshman Christopher Tarsillo, said.
In the coming year, millennials are projected to have the most brand influence and buying power with a combined total of $1.4 trillion, according to lexingtonlaw.com. It's also estimated that 3 out of 4 millennials would rather spend their money on an experience than a tangible item, whether it be attending events, eating with friends or traveling. While millennials are more inclined to try experiences as recommended or seen from their friends, some slightly out of the generation accept the practice of a snap and share. 
"I feel like it's snobby," said Daniil Tatsenko, freshman. "I'd rather share the experience with my friends." 
There are numerous reasons why this generation takes photos of their food. Besides promoting the food or the recommendation on social media, there's also great memory behind having a well-lit photo of delicious-looking food. While these photos may never be seen by other people and are the last to go in a phone declutter, just remembering how the food looks is enough for some people – almost like taking a good outfit photo.
Popular foodie social accounts like @New_Fork_City, a foodie Instagram page run by three women based out of New York, with nearly one million followers, are one of the most popular places to get a good recommendation or even a DIY idea.
"If something looks good and visually pleasing, I have to take a picture of it," said Hadja Bah, freshman.