Undelivered: John Jay App Disables Student Feed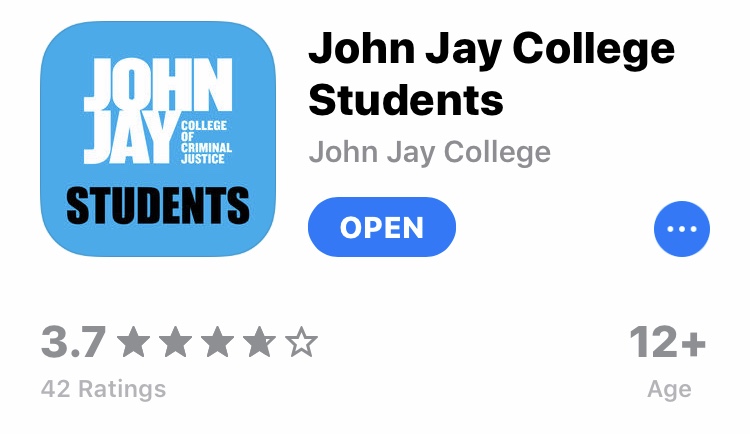 The JJAY Students app was hot for a while, but after disabling it's most liked feature, it might be losing it's cool.
On the public student feed section of the app, students from all walks of life would ask for class recommendations, post campus events, sell textbooks, and more. But in the latest version of the app, the student feed no longer exists.
On December 20th, app managers, housed in John Jay's Enrollment Management department, decided to disable the feature.
What was once used for connecting with fellow John Jay students suddenly disappeared. As freshman Jade Santos put it, "One day I had the feed on my phone and the next it was gone." She, like many students, felt "heartbroken."
In the app reviews, user Grace S. gave the app 1 star, and wrote, "It used to be fun with the Student Feed, but now it's worthless, so don't bother installing. Everything listed in the app can be found on the website or on Facebook… waste of storage space."  
Similarly, user smileheart also gave the app 1 star and wrote, "This at some point became another Instagram, Facebook combined with Tinder. It was ridiculous and students picking on other students. I deleted this the first chance I had."
No statement was ever issued to the John Jay community to discuss the reasons behind the disabling of the feature. Many students felt left in the dark, but moreover just wanted the feature back.
Jose Franciso Rodriguez is in his junior year at John Jay. Last April, he was among the first students to beta test the app.
"I'm not really sure why they took it down, but I think it would've been nice to be given a reason why," he said. "It was a great place to see things that are going on around campus that some people may not know is going on otherwise."
Sulema Ebrahim, Director of Special Projects in the Enrollment Management and Student Affairs Department at John Jay, is the main app overseer. She revealed how the decision to disable the student feed was due to potential legal concerns for the college. Similarly, the app's 24/7 accessibility was problematic.
Ebrahim gave a few examples of things she saw while monitoring the app. Students would post their class schedules, revealing their EMPLID in their screenshots, which posed as a threat to the student's identity. In some instances, a student would have a question about a campus resource, but other students would reply with false information or advice.
Students would also post pictures or group pictures, where the college did not know whether or not the students in the picture signed photo consent release forms.
Students having the ability to post on and view the student feed 24 hours a day raised flags among the app managers. For example, if a student posted about self-harm at 3 AM, no intervention from the college could be made and a dangerous situation might occur.
For these reasons, app overseers, felt worried and anxious because they could not keep up with filtering content.
Although they felt this was an important decision, they are currently looking for alternatives to the student feed because they acknowledge its popularity among students.
"Considering that the college is small we need community," said a John Jay Student who wished to remain anonymous. "We're a commuter college, we always work, we don't have as much of a campus culture as private colleges." 
Ebrahim is trying to see if Ready Education, the company who created the app, can release a new version of the app where the student feed is accessible only for a certain amount of hours.
"I loved seeing the interaction between all the students. It was actually pretty cool," she said.
With such short staff, however, the student feed will remain closed due to not being able to regulate it. A team of only two app overseers could not keep up with over 3,000 students who have access to the app.
"These are the consequences that we have to face," said Jasmine Awad, Student Council President.
She noted, however, that the app is more than just the feed.
"It's an informative app about the resources that we have on campus," she said.
Karla Viera a John Jay alum who works with Ebrahim on the app vouchers for the other amazing features the app has to offer.
"On the home page, everything students need is just a click away," Viera said. "You can access your John Jay email, CUNY first, academic calendar, a list of events across campus, and a lot more."
Andrew Berezhansky contributed to this article.