John Jay Athletics and Partnerships for Parks Team Up to Clean DeWitt Clinton Park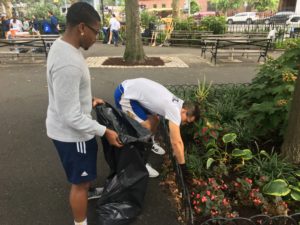 Nyasha Howard
September 30, 2018
On September 14, 2018 members of each respective team ranging from softball, baseball, and soccer in John Jay athletics teamed up with Partnerships for Parks. Together they collectively swarmed the park with their rakes, buckets, and garbage bags prepped to revamp DeWitt Clinton Park, in an effort to give back and keep their practice space spick-and-span.
On one side of the park, the baseball and soccer players along with their coaches mulched, weeded, and cleaned the turf along fences. In the middle of it all stood Carol Kashow the organizer of the whole operation.
Kashow is the Director of Athletics, Recreation, and Intramurals at John Jay. Every year for the past four years Kashow and Mindy Bockstein of external affairs of Partnerships for Parks, pick a date in September to put on this event. Not only to help out park staff with the cleaning of the park but essentially performing a good deed in honor of 9/11.
"Students are learning teamwork, but more importantly, gaining a great experience," Kashow said. "Kudos to the soccer and softball staff who volunteer and show up every single year since the events started."
That is to say, these John Jay athletes are not only cleaning up the park for themselves but also for the high school students who play there.
Kashow then points toward Michael Wasserman, a volunteer projects assistant for Partnerships for Parks.
Partnerships for Parks is a non-profit organization with the main objective of lending a hand to help parks improve.
"Our mission is to accommodate New Yorkers in every borough to ensure the parks in their neighborhoods are safe and clean," Wasserman said.
During that time, a baseball player walked back and forth in flip-flops shouting orders. Seemingly the other players glanced at him and continued with what they were doing.
Softball players walked back and forth with buckets of mulch to empty in the flower beds in the garden. A portion of soccer players emptied contents into trash bags.
"This event means a ton to the athletics program to come together and help the community," said Nicholas Towler, a junior on the soccer team.
This was his first year actually participating in the event. "Definitely would do it again next year, had a load of fun," he said.
As one looks around surveying the park, this event was definitely a success. A combination of athletes coming together for a great cause, and in exchange they gained experience, new friends, and clean practice space for themselves.