Commuting: A Burden or a Pleasure?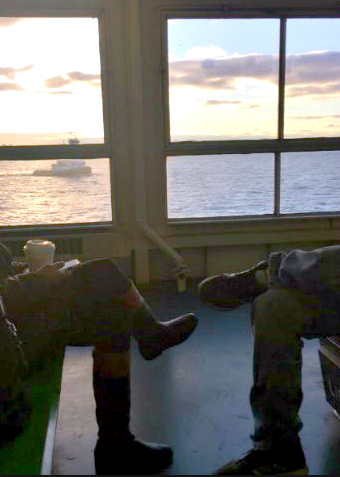 Hang on for a minute...we're trying to find some more stories you might like.
Commuting–the word alone is enough to annoy the average New Yorker.  So what can one do to make commutes that take up a great deal of time more enjoyable and worthwhile?
If you're someone who has to commute, especially if you commute a particularly long distance, then you know the struggle of having to wake up three hours earlier than that guy who lives a few blocks away from school. Traveling two hours to and from where one is going every week takes up a pretty large portion of one's time.
Most students asked about commuting to and from school have negative opinions on the topic. Particularly Donauta Starcevic, a senior at John Jay, has a number of reasons why her experience commuting five days a week from Brooklyn is not so pleasant.
The time in which Donauta takes the train to school is usually quite busy, meaning the trains are packed.
She explained how people are not normally in a good mood and can be quite argumentative, especially on a packed train.  And on top of it all, rats are a pretty displeasing part of having to commute through the MTA's subway.
"I wish I took the Metro North or the Ferry, that way I would have a more pleasant view."
Although Melanie Munoz, an English major at John Jay College, is not really in favor of commuting, she doesn't mind it either.  She commutes four days a week from Queens. Her trip is about an hour and twenty minutes.  While she does not have a problem with commuting itself, she is not a fan of the MTA.
"One thing I'm not okay with is how much money the MTA gathers, but doesn't really use to fix the infrastructure. Where does the money go?"
One student named David Silva-Gonzalez, a Criminal Justice major in his senior year, would take the LIRR four days per week for five years.
"I dorm now specifically because I hated my commute of two plus hours," David said. Now his commute is under thirty minutes since he is simply walking to and from school.
Ashley Duongtran, a John Jay senior double majoring in English and Security Management, loves her hour and a half commute to and from New Rochelle, NY.  She travels four days a week and takes the Metro North, it is more comfortable since it is not as hectic as the subway.
"The commute is quite relaxing, the seats are clean, comfortable and padded, and the train is quiet for those who like to sleep."
She spends her commutes reading, watching TV, listening to music, sleeping, or doing homework.  She prefers commuting over dorming not only because she doesn't mind traveling, but because she prefers a more natural setting than that of the city life.
During my most recent commute, I decided to interact with real people on public transportation, rather than seclude myself in the corner of the ferry with my face behind a book.
Finding approachable people was much harder than I expected.  Now that I was really taking the time to pay attention to my surroundings, I noticed that almost everyone had headphones in or were wrapped up in their phone.
If someone wasn't listening to music, talking on the phone, or scrolling through their news feed, then they were talking to friends.  Most of these people have had a long day, week, or month and did not want to be disturbed.
After circling the Staten Island Ferry several times, I found a few people who smiled at me and seemed open to discussing their commuting experience.
One commuter who really stuck out from the crowd was Mikel from Staten Island.  Mikel's days are long like most other Staten Island dwellers who commute to Manhattan for work. He is up and out by 7 am and he gets home around 8 pm. He does this five days a week.
Despite the amount of time he spends traveling to and from work, Mikel enjoys his commute.  He is originally from Albania, so traveling to and from the city on the Staten Island Ferry is an exciting experience for him.
"I still remember my first time riding the ferry, and each ride is just as breathtaking as the first," he said.
Overall, I have to agree with Mikel.  I don't mind my commute either.  I actually look forward to it every day, and I'm sure there are plenty of other people who do the same.  Okay, well maybe just a few.
Still, think about the five minutes before the train arrives that you spend getting your favorite coffee.  Or the view from your train window of the trees changing with each new season. The breeze that blows through the Ferry's open windows on a hot day. Think about the people you see every morning and ask how their day is going on your way to school.
Although most people take it for granted, there really is a lot one can appreciate during a long commute.