Untouched Opportunities Waiting at the Career Center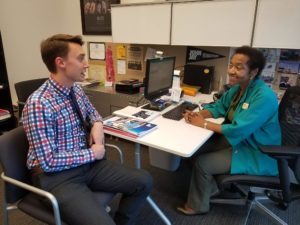 Hang on for a minute...we're trying to find some more stories you might like.
Resumes, internships, and networking! These are some of the many areas that The Center for Career and Professional Development helps students with when it comes to planning a professional career.
Throughout their college education, students may often feel unsure of what steps to take in their job search.
The Career Center's mission is to assist students with achieving success in their chosen career by providing guidance in career exploration, skill development, professional networking, and relevant experience.
The Career Center acts as an excellent resource for students at John Jay College of Criminal Justice to plan their future. But are students aware of all the benefits the center has to offer?
Senior Ashanti Lee, who is double majoring in English and Psychology, commented on the lack of information students have about the Career Center.
"Most students don't even know what services the Career Center offers, but I think it would be helpful if they stopped by the office just to get familiar with it," said Lee.
Barbara Young, a Career Counselor at the center, said counseling appointments can be valuable to students because the sessions are designed to meet a student's specific needs and concerns.
"I counsel them regarding career exploration, resumes, cover letters, internships, job search, interview skills and graduate school planning," said Young.
Young described the kind of advice she gives students who are working towards building a career. "Networking is just as important as having impeccable application documents," said Young.
Students should make it a point to meet people in their desired career field whether it be through internships, career fairs, or professional organizations. This type of contact allows a student to gain insight on specific job positions and introduce themselves to potential employers.
Internships allow students to receive hands-on experience and build their professional skills. The Career Center at John Jay provides students with the chance to not only apply to regular internships, but academic internships as well.
Through an academic internship, students register for a course, gain academic credit, complete fifteen hours of class time, and complete ninety hours at the internship site where they have a supervisor who assesses their performance.
David Lennox, who works as a Student Career Engagement Counselor, stressed the advantages of an academic internship.
"What the academic internship program offers students is the chance to earn academic credit for their internship, while also engaging in a classroom experience that allows for students to learn and understand how their academic curriculum translates into a real world internship experience," said Lennox.
Lennox oversees the Peer Career Educator Program, which involves students who work at the office through an academic internship, and various initiatives geared toward engaging with John Jay students.
During counseling appointments, Lennox talks with students about how they can prepare during their job and internship search.
Students should think about the major responsibilities that their job entails. By imaging what they want to do in their job positions, students can better understand their career goals which will allow them to build toward these goals.
"Another area would be skill development, what skills do you already possess and what skills are you looking to develop?" Lennox said, "This will assist students when they are reading through job descriptions as well as the interview process."
Lee has frequently visited the Career Center, "I've met with my Career Advisor multiple times to go over my resume and also to secure an internship for the JFEW program," said Lee. During her sessions, Lee's counselor gave her a handbook for writing cover letters. Materials such as the handbook can guide students while they put together their resumes, cover letters, and application forms.
Students can also take advantage of the many events and programs that the Career Center has to offer. Workshops held at the center include issues concerning  resumes, cover letters, social media presence, interview skills, and networking.
More notably, the Career Center hosts two Job and Internship Fairs where students have the opportunity to speak with over one hundred employers from various organizations.
"We also have a Graduate and Professional School Fair where students can learn about graduate programs, law schools, and medical schools," said Lennox.
One of the programs provided at the Career Center is the CUNY Service Corps, which serves as an enriching experience where students can make a difference in their communities and develop workplace skills. The Service Corps is a paid internship and, in some cases, can provide students with academic credits.
Young suggested that students should consider learning more about how the Service Corps can aid them.
"The resulting work experience then adds value to the student's resume because it manifests the qualifications of both education and experience," said Young.
The virtual portal, John Jay Careers Online, is another essential tool that can be used as a source of information. Many job and internship postings from public, private, and non-profit sectors can be found on the website. Students can upload a resume and apply directly to their desired position. Furthermore, students can access a calendar where they can RSVP for future events and workshops.
Overall, the Career Center functions as a useful asset to a student's professional endeavors. "We are here to help students acquire the skills they need to successfully enter and thrive in their chosen careers!" said Young.
For more information on upcoming events and workshops or to schedule an appointment with a counselor, students can log-in to their John Careers Online account. Drop-in sessions are also available at the Career Center, which is located in L.72.00, New Building.